| | |
| --- | --- |
| Chamonix Paragliding trips | |
| | | | |
| --- | --- | --- | --- |
| | | | |
| Fitness Level | | Stamina Level | |
Course Overview
| | |
| --- | --- |
| | Icicle offers both paragliding tandem flights to course clients as an extra activity, as well as specific paragliding courses in their own right. All our paragliding courses and flights are in the Chamonix region. |
| | The sport of paragliding has grown massively over recent years. Its origins were in the mid 1980's, when it slowly evolved from parachuting. A modern paraglider now only weighs around 7kg, and you can ride the Alpine thermals to heights of up to over 3000m. |
| | On our courses and flights, we provide all necessary equipment including harness, helmet, etc. In the Alpine summer months the region usually sees anticyclonic weather conditions, so you can get great amounts of flying time, not to mention excellent views. |
| | We work very closely with both individual instructors for taster tandem flights, and French registered schools for week long courses. Both have the very latest equipment, and fluent English speaking instructors. |
| | It is a legal requirement in France for all instructors to hold the BEES (FFVL) paragliding instructor license and professional tandem rating as, unlike the UK BHPA instructors, it carries full insurance. |
| | Dates on demand for the week long courses for two or more people booking together in July and August. Tandem flights can be arranged for any day of the summer or winter seasons. |
Tandem Flights

Most people first try flying this way for their first time, and as you are with an instructor, so they can worry about the thermals and winds for you. To organise a flight, please give us at least 24 hours notice for standard flights, or e-mail us. Most tandem flights operate between 10am and 2pm, for strong thermals to build up. To book a flight we need to ask your weight to assess when the thermals will be strong enough / not too strong for you to fly (it works both ways!). The most common flight options are listed below.


1) FIRST FLIGHT:

A tandem flight lasts about 30 minutes, and the most popular option is to take off from Planpraz, catching the thermals and soaring over Chamonix over 1000m below you. The landing site is in the field next to the micro brewery, so you can celebrate your first flight or at least calm your nerves down! This flight costs c.110 euros (payable in Chamonix), and you get a flight certificate.


2) GRANDS MONTETS:

From here at the top cable car station at 3295m, you take off to fly past the massive granite walls of Les Drus and over the glacier called the Mer de Glace (c.180 euros).


3) AIGUILLE DU MIDI:

You could even consider a flight from the Aiguille du Midi at 3842m to give you a first experience of altitude flying, and from the ridge of the Midi you have a mountaineering approach to the take of area (c.240 euros).


4) MONT BLANC:

You can even arrange to fly tandem from Mont Blanc 4810m, as long as you give us a few months notice to arrange it and for you to train accordingly both for the flying, and for the climbing to reach the summit.

Week long paragliding course

In France all paragliding instruction courses follows the FFVL syllabus (Federation Francais de Vol Libre), which is the local equivalant of the UK system called the BHPA (British Hang-gliding & Paragliding Association). Summer courses are run between June and September, but given a choice of dates, we suggest August and September for the most stable air conditions. It is too cold and snowy in winter for paragliding courses. By the end of the week in the summer you will have several hours of solo flights, made up of many short flights so that you get as much experience of take offs and landings as possible, as well as several longer flights. All new pilots fly in radio contact with an instructor who will be flying nearby. Our week long paragliding courses are run in conjuction with our partners at the leading paragliding school in Chamonix.


MONDAY & TUESDAY:

The first couple of days are spent at the local training site, practicing on the training hill where you will be taught to layout and inflate the paraglider. Once you master these skills, you start running downhill to learn launching, steering and landing the paraglider. These are the essential techniques, and then you are finally ready to fly! On these first two days about 10 to 15 short training hill flights are made each day. Do not worry is all this running around sounds very tiring, as it is not too strenuous, but good basis fitness is very beneficial. The work on the training hill is a very important part of the basic flight training, and the more efficient you are with your running and launching of the glider, the more small flights you will initially get.


WEDNESDAY to FRIDAY:

By the third day you will be flying from the high mountain where minibus transport or cable cars will take you back up to the launch area. During the next three days you will fly a minimum of five big solo flights, though often our clients have up to eight flights. These flights are from sites 700-1000 above the valley floor: the views are stunning. The take off area overlooks Mont Blanc, the highest mountain in the Alps. You will study how thermals develop, their sources and trigger points, along with the techniques for finding and staying with them, allowing you to maximize your height gains. As the course progresses you will be introduced to cross country flying techniques, and will also look at the weather systems to develop an understanding of good and safe flying conditions. This five day course is a brilliant introduction into the sport and at the end of this course you will be presented with a French Flight Log book that details the work you have completed. Now it is possible to convert to the British license, please see below for details.


PRICE:

From £999, dependent on inclusions (e.g. accommodation standard) that are required. The majority of the flight training takes place at sites called Planpraz or Plaine Joux, very close by. These spectacular regions have a number of very good pure thermalling sites to work from. The sites have huge top to bottoms of between 720m - 2700m and access is by either road or cable car. At the end of the course you receive a French log book, the basic license that is easily converted to other countries license. Flying training insurance costs around 50€, and can either be arranged in the UK before you travel or in France (see section below for more details). The course price includes all instruction, and the French school provides all the equipment for training: glider, harness, safety helmet, radio, transportation to and from launch / landing sites during the training, but not cable car costs. As the equipment is of limited size there is a naked weight limit of 100 kilograms. Your accommodation is included on a B&B basis, check in on Sunday from 16:00 and check out on Saturday at 10:00.


INSURANCE:

The French paragliding training course requires you to have a training insurance for which you will require a doctor's letter stating that you are basically fit. Please just take a basic health check for blood pressure, breathing and general fitness. A full medical check is not required unless you feel it's necessary to have one or you are over 50 years old. It's worthwhile obtaining this before you visit as you need it on the morning of enrolment. Please do this just a month or so before as it needs to be reasonably current. This training insurance is for the third party requirement whilst training. This insurance only covers a basic medical cover, unless you are a French citizen, so additional health cover is required from your own country for repatriation, hospitalisation etc.


EQUIPMENT:

For your training you will require good ankle supporting walking boots, long sleeved top, trousers, a lightweight windproof top, sun tan cream, plenty of bottled water as learning can be thirsty work, and lunch, though there are restaurants at the training hill.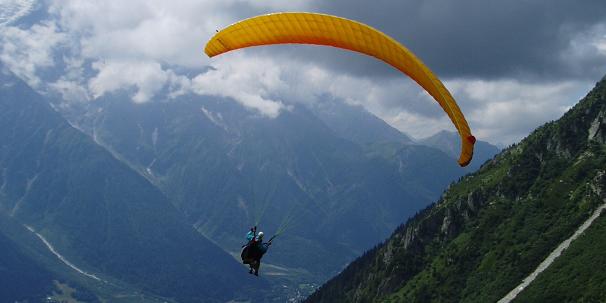 Your next steps after a course
The aim of most people is to fly free after the course. This is often possible, but generally we recommend that you consider the next level on the French FFVL system, which is called Perf 1. Yes, it is another five days of instruction, but after it you should definately be confident of flying independantly and making your own safety decisions. You should then take your log book back to the UK, to convert to the UK scheme, so that you can keep flying when not in the Alps. Free flying in the United Kingdom requires each pilot to have their BHPA (British Hang Gliding and Paragliding Association) 'Club Pilot License', the second of four licenses available. The CP license is preceeded by the 'Elementary Pilot License' or EP license. During the beginner course week the French training you receive has been monitored to cover the tasks required for the EP license. Then with some classroom work, a little reading and a basic written exam you will be presented with the appropriate paperwork that you can return to the UK with. All you need to do then is join the BHPA to obtain your EP license. You will still be required to train to the British 'Club Pilot' level before you are allowed to free fly in the UK and depending upon where you live we can recommend an appropriate school for you to continue your training with. To complete your BHPA - EP training, papers and exam there will be an extra charge of 75 Euros.
Please note
Paragliding is a form of aviation with all of the inherent and potential dangers that are involved in aviation. No form of aviation is without risk, and injuries and death do occur in paragliding, even to trained pilots using proper equipment. We endeavour to minimize this risk as far as is reasonably practicable, but it cannot be eliminated altogether. No one should participate in paragliding who does not recognize and wish to personally assume the associated risks.
Paraglider pilot focus
Alan is both a mountain guide and paraglider pilot. In addition Alan was the first person to fly from Everest by paraglider, and he has flown with clients from the summit with clients several times. Alan is qualified on the French FFVL system, and has been flying in the Alps for nearly 20 years. On all our paragliding flights that take off from mountain summits such as Mont Blanc, all the pilots are all qualified to this level.
Popular links
Testimonials

Press & media

Films & videos

Photo gallery
Our published articles
Latest news from Icicle
Any further questions?
A key part of choosing a company is being able to come and talk about your plans with an experienced course advisor face to face. In an increasingly virtual world, we know our clients value speaking to real people, getting open and honest advice. The vast majority of our clients are British, and our office and outdoor store is based in Windermere in the English Lake District.


Get in contact to arrange a meeting, and come in for a coffee to discuss your course in person with a trip advisor. Many people opt for this service, and it is an integral part of what we offer, as we are keen to ensure that you are prepared as possible, and that you select a course that is suitable for you. It makes it easier and more enjoyable for you and us, if you are on the right trip.