Bob Graham self-guided 2024

Self-guided 3 day recce of the full BGR route and 42 summits
Course overview

| | |
| --- | --- |
| | It was back in 1932 that a Keswick Hotelier called Bob Graham first ran this route, and it's the classic circuit of 42 of the highest Lake District peaks, in a loop of 66 miles (106km), with 26,900 feet (8,200m) of ascent. To complete the circuit in one continuous push is the holy grail for fell runners. This page details our self-guided itinerary, but if you'd prefer the fully guided option, click here. |
| | This package is a self-guided circuit, where we take care of all the logistics, and accommodation bookings. There is a night in a B&B booked at each end of the run, as well as for two nights during the challenge in local hostels / bunkhouses on a half board basis. We also supply a waterproof map and route cards, as well as a detailed GPX (GPS) file to assist your navigation. |
| | The route is a serious challenge for any runner, but as this package is self-guided, you can take it at your own pace, though we recommend you should have run mountain marathons previously, and whilst the speed is not especially important, a strong and determined character is important. The days are all long, notably the first and last in terms of distance, and the middle day for the number of peaks ascended. |
| | The map and route altitude profiles below show you the route, and how the days are split. We've made each of the days normally similar length in terms of hours. Some of the route is following established paths, though much of it is navigating across open fellside to take the quickest route. |
| | Dates: This trip can only be organised during British Summer time between May and September, when the hours of daylight are at their longest, and the fells will hopefully be at their driest, with no snow or ice underfoot. Our itinerary can start on any day that you choose, so pick a date and get in tough with us by e-mail. We upload a private self-guided trip onto our booking system, and then you can book and pay securely online. You receive an immediate e-confirmation and kit list. You receive your trip detailed itinerary, map, and route notes in Windermere on your briefing. |
Pre-requisite experience
Distances and elevations
Over 3 days this averages 22 miles (35km), with 9,000ft (2850m), per day on 3 days back-to-back running.
Over 5 days this averages 13 miles (21km), with 5,400ft (1650m), per day on 5 days back-to-back running.
What this equates to
The 3 day schedule is roughly 1 mountain marathon with 2 ascents of Ben Nevis, every day, 3 in a row.
The 5 day schedule is a half mountain marathon with 2 ascents of Blencathra, every day, 5 in a row.
Dealing with the terrain
To accept a booking, we expect everyone to declare that they have run a mountain running event of similar distance to the daily total, or ideally a multi-day running event, on similar fell (not trail) running terrain.
Mountain skills
The weather in the fells of the Lake District can reduce visibility to just a few metres. At least one person in a group should be competent navigating in these conditions or in the dark, without electronic aids.
First Aid ability
You must be proficient in 1st aid, and carry sufficient kit to effect it autonomously. Under no circumstances are mountain rescue teams there for unecessary call outs, that you should be able to deal with yourself.

Brief Course Itinerary
On this self-guided itinerary, the accommodation for each night is booked ahead by us to guarantee availability, so when you arrive at each point, there is a booking in your name. There is some flexibility in the standard of accommodation that you may require, so let us know your preperences at the time of booking. The trip price is for the logistics (bookings, briefing, & bag storage), and provision of map, route cards, and GPX (GPS) file.

Arrive & briefing

Arrive in Windermere to meet one of our running guide team, who will brief you on the route, latest conditions, and weather forecasts. They will provide you with your waterproof map and route cards. The GPX (GPS) files are usually supplied by e-mail the week before travel. In the briefing you are informed of all the logistics notes, such as exact accommodation bookings for during the run. You spend the night in a local B&B (if required) either in Windermere, or in Keswick, to allow you an earlier start the next day.
Run day 1 - Keswick to Dunmail

Breakfast in your B&B, and then drop off bags at office (if staying in Windermere), then travel to Keswick and its Moot Hall. Start running from in front of Moot Hall, and take in the 3 northern fells, before the road crossing at Threlkeld, and moving south over the whole spine of the Helvellyn range, until you reach Fairfield where you veer west over Seat Sandal and down to Dunmail Raise. Here you reach the road you drove on up to Keswick earlier in the day, and stay in a local hostel on a half board basis.
Run day 2 - Dunmail to Wasdale

Set off up the seemingly vertical Steel Fell, and run your way westwards across into the Langdale Fells, then up into the Scafell group. This section of the route is peppered with high summits, and it's hard to keep the pace steady. The trickiest technical section is crossing from Scafell Pike across to Scafell, before the long steep descent to Wasdale head. Many an actual BGR 24 hour attempt ends here, due to time lost over the highest peaks, hence why this day is shorter distance. Night in local hostel half board.
Run day 3 - Wasdale to Keswick

The final section of the route starts with a loop off over the Pillar group of fells, before curving around to the Gable group, and then across the road at the Honister pass, before you enter the last group of mountains over Dale Head, before the final peak of Robinson and the long descent and run out along the Newlands valley to the shores of Derwent water and finally the finish in front of Moot Hall at Keswick. After a celebratory pint, collect your bags from our office in Windermere, and spend the night in a B&B (if required).
Departure

After breakfast in your B&B, you can take time to take in your achievements over the past three days. Many people have quite an easy day to rest the legs, and spend a few hours looking around shops, and eating in local pubs and cafes, before travelling home.

ITINERARY NOTES: Where possible we follow itineraries. Mountain adventures are weather and conditions dependant, so occasionally we are forced to alter the plans. Please use this outline itinerary as a guide to the types of route / activity that you will attempt.
Course Prices
Standard course

3 full days running, self-guided
5 days holiday, 4 nights accommodation
£149

Live availability

Click on the planner logo to the right to
see the real time live course availability

Secure online booking system
Inclusions: 1) Qualified guide for briefing, 2) Lake District course hosts for logistics & briefings, 3) Pre course information booklet, 4) Equipment discount voucher for our UK shop, 5) Booking of up to 4 nights B&B / half-board accommodation in your name (note cost of accommodation is not included), 6) A new waterproof map of the BGR, for you to keep after you have finished, 7) Route information cards, 8) Emergency procedure and mountain rescue card, in case of an incident, 9) Free baggage storage in Windermere, for the days you are out running, 10) 24 hour in-resort emergency contact and queries support throughout.
Exclusions: 1) Travel to & from Windermere, 2) Equipment hire such as poles or waterproofs, 3) Bar / food bills & tips, laundry, telephone calls, 4) Accommodation as requested, 5) Travel to and from start of the run route from Windermere.
Book early for 2024...

Bookings for 2023 are now closed. Accommodation & briefing spaces are limited.

2024 trips - book before the deadline of 01/12/2023, to guarantee trip availability.
Current course availability

This trip is operated on
demand, & the price is
a total (not per person)
for groups of 1 up to 4.
Contact us to upload a
bespoke trip for you to
book securely online.
Client feedback (guided)

What a weekend! In all the good ways of course. I really was amazed how much I learned during the weekend, and I never imagined how much fun it would be too

Oli W , BGR recce


Thanks to you all for this weekend. We had a great time, and our legs are still tired two days later, so you clearly gave us exactly what we were after

Neil J , BGR recce


This weekend was a confidence boost for me to expand my running into venturing off road and even into the hills on my own in the very near future

Robbie A , BGR recce

Testimonials

Press & media

Films & videos

Photo gallery
Travel to this trip by train
| | | |
| --- | --- | --- |
| | | Minimise the impact of cars in the Lake District National Park, and travel by train. Our office is just 300m from Windermere train station, which is on a branch line from the West Coast main line. |
Location data for this trip
The meeting point for these courses is at our office in Windermere in the Lake District National Park. There is easy access by car, and the train station is just 150m from the office door. From here there are a huge variety of trails to run on and mountain terrain to opt for, so we can cater for all weather and conditions. We genuinely believe that the Lake District is second to none with the quality and quantity of amazing fell and trail running opportunities. The UK hills are famed for often providing four seasons in one day, and that is what makes the fell running such a unique and rewarding challenge. Don't forget that it helps to have a great selection of pubs in the Lake Dictrict to enjoy a beer and natter in after the run!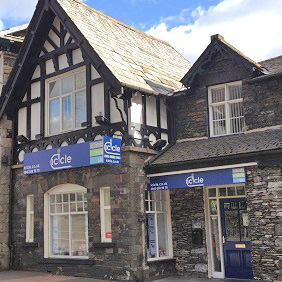 Free resources



FREE Podcast
Getting into trail running...
Trail running is a fastgrowing sport, and this podcast explains what it involves, how to get into it, and also goes through all of the equipment that is required.



FREE Resource - Fell &
Trail running kit list...
If you are planning on attending one of our trail running courses, you can see a kit check list of the clothing and equipment that we recommend you take.
Suggested reading and kit
Why choose our trips?
| | |
| --- | --- |
| | The photo above sums it up. All of these finisher jackets of the UTMB race series belong to our head running leader. We genuinely think that there is no other operator out there who is more credible! |
| | We don't offer talks from 'celebrity' runners, or go in for the chardonnay in a hot tub 'lifestyle', or quasi-scientific courses. Ours are run by people who do it, not talk the talk. |
| | The effect on our prices is that we can offer you great value. We genuinely believe that you'll spend more time actually running and in the mountains on our courses, than with anyone else. |
| | Many of those leading you will be a finisher of one of the world's iconic trail races, such as the Ultra Trail du Mont Blanc, Tor du Geants or Leadville or WS100. |
Essential reading and tips
This guidebook has 40 routes in the Lake District, and with free GPX (GPS) files to help navigation. Lots of top tips, and run lengths from an hour or two, right up to 30 mile race routes. Signed copy. BUY NOW
This book was written by award-winning author Kingsley Jones, who is also one of our lead UIMLA running guide team.