Alpine Intro 'Summits & Skills' 2023

1st Alpine summit | Techniques & skills | Ideal first climbing trip
Course overview

| | |
| --- | --- |
| | Your first trip to the Alps is your most important and most rewarding, as you begin your Alpine climbing career, and learn safety skills that you will use for the rest of your life in the mountains. |
| | To join our Alpine Intro course you need no previous experience of climbing or mountaineering. This course is suitable for keen hill walkers, indoor wall climbers, or ramblers, to introduce you to the key technical aspects necessary for mountaineering. |
| | A key feature of the Intro course is that you attempt an Alpine peak, such as Aiguille du Tour, at the end of the week. This involves a day ascending to a mountain hut for the night, and an Alpine start the next morning to ascend the peak. A great experience, and this will confirm how much you have already learned. |
| | Alpine Introduction courses focus on the skills that you will require for ascents on Alpine rock, ice and snow; including ropework, glacier travel, navigation, crampon & ice axe use, and equipment selection. |
| | Even if you have had no previous contact with ropes, or experience of ice or rock climbing, by the end of the week you will have climbed pitches of glacial ice, a rock route and reached the summit of an Alpine peak. |
| | A principal feature of this course are the evening theory sessions, where you learn the background theory, so that the daylight hours are optimised for your climbing time. You can read more about these instruction sessions, which cover ropework, Alpine weather, and crevasse rescue, by clicking here. |
| | Dates: these are listed in the column on the right, and they show the live availability from our secure online booking system. When you book online, you receive immediate confirmation, your Alpine Information Booklet, course specific kit list and invoice. |

Brief Course Itinerary

Sunday
Travel to Chamonix to arrive for the 17:00 check-in followed by and course safety and itinerary briefings. There is time for kit checks or rental of equipment. Briefings are over by 19:00 and the team accompany the group to pre-dinner drinks. Many clients opt to travel out a day or two early to do an acclimatisation weekend course to provide an extra night of accommodation, and to ascend a 3000m peak. Night in Chamonix.

Gallery: Chamonix town
Monday
Day to learn and practice using crampons and ice axes on the Mer de Glace / Argentiere glacier (2000m). You climb vertical ice, create ice anchors, and learn glacier travel skills. This is one of your most important days of the course in terms of skills development as it is essential to have good footwork with crampons. Guiding ratio 1:6 (max). Evening theory session / meeting with course hosts: click for info. Night in Chamonix.

Gallery: Mer de Glace

Tuesday
Snow covered glacier travel skills, practising building snow anchors, crevasse rescue, route choice / probing for crevasses. The day is spent with a journey across either the Vallee Blanche, Pointe Lachenal and the Col du Midi, or on the Argentiere glacier basin. The day is essential for your acclimatisation before your main ascent. Guiding ratio 1:6 (max). Evening theory session / meeting with course hosts: click for info. Night in Chamonix.

Gallery: Lachenal & Vallee Blanche

Wednesday
Day of Alpine skills on mixed terrain, to cover skills such as moving together as a roped team, anchors, and ropework. If suitable snow conditions allow, ice axe arrest can be tried, and you can build some snow anchors. Roped scrambling is useful, to help train you for Aiguille du Tour at the end of the week. Guiding ratio 1:6 (max). Evening theory session / meeting with course hosts: click for info. Night in Chamonix.

Gallery: Alpine skills
Thursday
A morning of rock climbing skills, to learn / practice belaying safely and how to lead / set up safe anchors on rock climbs. You climb either in the Chamonix or Vallorcine valleys, depending on where the weather is better. Then drive to Le Tour at the head of the Chamonix valley, and after lunch you trek up to either the Albert 1er or Trient mountain hut, in the Tour / Trient glacier basins. Guiding ratio 1:3 (max). Night in mountain hut.

Gallery: Alpine rock climbing
Friday
Summit of Aiguille du Tour 3540m with an Alpine start from the high hut, then after you have reached the summit, you descend to the refuge for lunchtime. After a rest you trek down to the valley in Le Tour, and return to Chamonix. Celebrations in Chamonix in the evening. Guiding ratio 1:3 (max). In the evening there are optional drinks and team celebratory meal. Final night is spent in Chamonix.

Gallery: Aiguille du Tour 3540m
Alternative - Thursday & Friday
If conditions dictate, or there is a group with a strong preference, the last two days of the course can attempt Gran Paradiso 4061, the highest peak completely in Italy. There are 4 possible normal routes to the summit, to cater for conditions / experience. The travel and tunnel toll cost is approx £30pp if you opt for Gran Paradiso. Thursday night is in a mountain hut on half board basis, and Friday night in Chamonix.

Gallery: Gran Paradiso 4061m
Saturday
Breakfast then the accommodation check out is by 10:00. Most arrange their transfers for around this time for a flight from Geneva about midday. Some people opt to book a tandem paraglider flight in the morning to celebrate the weeks efforts, and prices for this are from 100€ for a c.30 minute flight. These flights can be booked in resort up to the day before you wish to fly. Depart for home.

Gallery: Icicle Windermere office
ITINERARY NOTES: Where possible we follow itineraries. Mountain adventures are weather and conditions dependant, so occasionaly we are forced to alter the plans. If this is the case, suitable alternatives are offered. Please use this itinerary as a guide to the types of route / activity you attempt.

Course Prices

Standard course

5 days guiding, 7 days holiday in total
£999

Live availability

Click on the planner logo to the right to
see the real time live course availability

Secure online booking system
Standard Course Inclusions: 1) IFMGA Mountain Guide for five days, 2) Chamonix course hosts for logistics & briefings, 3) Evening technical instruction / briefing sessions, 4) Six nights self-catered accommodation in Chamonix (inc. linen, bedding & towels) for the whole week, so you don't need to move out when in huts, 5) One night half board in mountain hut (inc. costs for guides), 6) Pre course information booklet, 7) Equipment discount voucher for UK shops, 8) Free 36 page technical Course Instruction Booklet, 9) Road transport in Chamonix valley, 10) Icicle discounts privilege card for reductions in local shops and restaurants in Chamonix.
Exclusions: 1) Travel to and from Chamonix, 2) Equipment hire, 3) Cable cars & uplift (c. 60 euros depending on itinerary), 4) Transport (inc. tolls / bus / tunnel ticket) and uplift for you and guide if travelling outside valley (not usually required), 5) Personal laundry, telephone calls, lunches, evening meals in valley, & any purchases in mountain huts / hotels / restaurants, 6) Sunday pre-dinner drinks, 7) Friday celebratory meal & drinks, 8) Activities insurance, & excess baggage charges.
Course upgrade options
Many clients on this trip consider upgrading with one or more of the following course additions...

Private
room

Big 5 Alpine
extensions

Technical
kit rental

Acclimatise
weekend

Upgrade to single from
£300-£500 in addition to
standard course price,
depending on week.
Extend by 2 days after
to ascend one of the
Big 5 Alpine peaks as
an extra summit.
Rent all technical kit
for a week. Full Alpine
Bundle costs you just
£100 for the week.
Saturday night spent in
Chamonix, with choice
of self-guided or guided
on Sunday. From £70.
Click for details
Click for details
Click for details
Click for details

Standard course accommodation - normally clients are based in self-catered flats (details), so take a look, and decide if it's for you. For more luxury, contact us for quotes in higher standard apartments, or hotels of any standard required. If you have / source your own course accommodation, or we cannot provide an upgrade, the standard course price has a £100pp reduction applied on your invoice.
Current course availability

Course Dates

Alpine Intro

Client feedback


I must admit that I was a bit scared about my first trip to the Alps, but the Icicle hosts and Guides really looked after us, and we were supported loads, especially during our ascent of our first 4000m Alpine peak

Lara Glenn , Alpine Intro


A really rewarding course. The climbs were great, and taught loads too

Phil Mason , Alpine Intro


Thank you so much for a brilliant week. We learnt more than we thought there was to know, which is down to the professionalism of the guides, & the great set up you have in Chamonix

Peter & Sue Thomas, Alpine Intro

Testimonials

Press & media

Films & videos

Photo gallery
Location data for this trip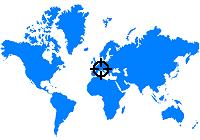 The trips are based in the Chamonix valley in the French Alps, at the foot of Mont Blanc. It is easily accessed via a 90 minute transfer from Geneva airport.
Time Difference
GMT +1hr

Local Currency
€ Euros

Travel from UK
1hr flight
Why choose this course
This course is genuinely one of our favourites to run, as those booking on it are declaring that they want to learn as much as they can, and are seeking to kick start their Alpine career by getting the key skills and knowledge, before they attempt some of the bigger and harder routes. This is a great attitude with which to begin Alpine climbing, and is a very sensible approach if for example you have never worn crampons before.
Alpine skills & knowledge
Try to answer the questions below, and see how much you already know. The answers are beneath. After you complete one of our Alpine Intro courses, you should be able to answer all these questions, and much more with the greatest of ease.


Q1. What is the minimum length rope two climbers should take for a wet glacier crossing?

ANSWER: They should take a 30m rope, as a wet glacier is snow covered, so crevasses could be hidden. Each climber should tie on the end of the rope and take in chest coild until 10 to 12 metres are tied off between them.

Q2. What is a foehn wind, and how is it generated?

ANSWER: A foehn wind is caused by the enforced uplift of an airmass over a mountain, and as it cools with altitude the humity condenses and precipitation falls. On the descent the drier air mass is rapidy compressed and warms quickly. The net effect is that the air reaches the same altitude on the far side of the mountain drier and warmer than on the uplift side.

Q3. How can you retreat from a multi-pitch ice / glacier climb without leaving any ice screws behind?

ANSWER: By constructing Abalakov belay systems, which are two inter-connecting holes drilled into the ice, using ice screws, through which some abseil tat is threaded and tied off.

Q4. How do you tell a left and right crampon apart?

ANSWER: The buckles / strap attachments are always on the outside of the crampon, to reduce the snagging / trip hazard. Also looking a the crampons from above, a left boot crampon bends to the right, and vice-versa.
Suggested reading and kit
| | |
| --- | --- |
| | View full course equipment list, with examples of kit, click here |
Why choose our trips?
See our Alpine blog, by clicking on the Word-press logo to the right.
Itinerary flexibility to allow you to take full advantage of the weather windows on any day, to maximise your summit chances.
Our prices are fixed in £ Sterling, to protect you from euro fluctuations, so you can budget accurately.
There is a choice of routes to opt for, depending on the weather, conditions, and your experience.
Any further questions?
A key part of choosing a company is being able to come and talk about your plans with an experienced course advisor face to face. In an increasingly virtual world, we know our clients value speaking to real people, getting open and honest advice. The vast majority of our clients are British, and our office and outdoor store is based in Windermere in the English Lake District.



Get in contact to arrange a meeting, and come in for a coffee to discuss your course in person with a trip advisor.