Corsica full GR20 trek 2022
Technical 13 day trek along full route from Vizzavona through to Conca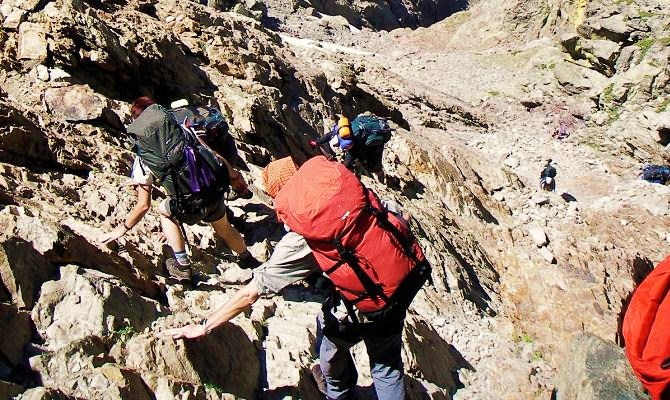 Course overview
| | |
| --- | --- |
| | The GR20 follows the watershed of the mountainous spine of Corsica to cross the island from the NW to SE, on a rugged and physically demanding trek. A very good level of fitness is required for trekking over the relentless ascents and descents and rough ground. All the effort you put in is more than compensated by the stunning views along the route. |
| | Due to extremely limited vehicle access this is a lightweight backpacking trek. We recommend a rucksack of between 55 and 65 litres for this. The route involves several scrambles, so it is not for first time backpackers! Just to reinforce this point please do not consider this trek is you have knee or ankle problems, or have any difficulty with heights. The photo above is indicative of the terrain encountered. |
| | A very good level of fitness is required for trekking over the relentless ascents and descents and rough ground. All the effort you put in is more than compensated by the stunning views along the route. To minimize the weight, you carry no more than three days supplies at any time. You will need to carry a sleeping bag and insulation mat, Goretex bivouac bag / lightweight tent, waterproofs, spare clothes and food. |
| | During the trek the nights out are spent in bivouacs near the basic refuge shelters. Some of these nights out have access to simple showers and occasionally some limited supplies of drinks and snacks. This is not a tour for those needing creature comforts. |
| | Bivouac night meals are not included in the price, so budget up to 250€ euros for these ten meals and all lunch snacks. Also allow for extra drinks and refreshments you purchase. As the route is so remote, where supplies are available, there is a big price hike, as you would expect. In the villages, wine and drinks are far cheaper. |
| | Dates: these are listed in the column on the right, and they show the live availability from our secure online booking system. When you book online, you receive immediate confirmation, your Alpine Information Booklet, course specific kit list and invoice. |

Daily Course Itinerary
| | |
| --- | --- |
| Sun | Fly to Corsica, then transfer by bus or train to Calenzana. After a briefing, there is time for you to go and purchase supplies. In the evening you can opt to eat out. Night spent in a B&B hotel. |
| Mon | Calenzana to Refuge L'Ortu Piobbu. Steadily ascend away from the coast into the mountains above the Melaghia valley. There is an easy scramble on this day, then a contour trek with steep end to reach the refuge. Bivouac near refuge. Meals at own expense. Walking: 10km, 7 hours. Height gain 1300m. |
| Tue | Refuge L'Ortu Piobbu to Refuge Carrozzu. A day trekking through rugged scenery. In the afternoon there is a steep descent into the forests to the refuge. If you are hot and dusty you can swim in the pools of the Spasimata river. Bivouac near refuge. Meals at own expense. Walking: 8km, 6 - 7 hours. Height gain 1200m, height loss 1500m. |
| Wed | Ref Carrozzu to Haute Asco. A short but steep section of the trek, with lots of scrambles along the Spasimata Gorge, then across to the Muvrella lake, before the steep ascent to Punta Culaghia. From here the route descends to the hotel at Haute Asco. Night in hotel, with dinner in trek price. Walking: 6km, 6 hours. Height gain 900m, height loss 800m. |
| Thu | Haute Asco to Bergeries Ballone. Today you cross the infamous Cirque de La Solitude, from the Col Perdu to the Bocca Minuta, with a big dip between! There are many sections of fixed chains and cable, but the leader will guide you. Bivouac near bergerie. Meals at own expense. Walking: 8km, 7 - 8 hours. Height gain 1100m, height loss 1000m. |
| Fri | Bergeries Ballone to Castel di Verghio. A massive day in terms of height gain and loss. The route crosses the Golo river on several occasions, and then winds through the forests to reach the hotel at Castel di Vergio. Night in hotel, with dinner in the trek price. Walking: 13km, 7 hours. Height gain 2000m, height loss 2000m. |
| Sat | Castel di Verghio to Ref. Manganu. An easier day, with initial forest tracks giving way to steep ground, with views ahead to the next section of mountains. Descend to Nino lake and the Tavignano river. Contour to the Manganu refuge. Bivouac near refuge. Meals at own expense. Walking: 14km, 6 hours. Height gain 800m, height loss 600m. |
| Sun | Manganu to Ref. L'Onda. The hardest day of the trek, and the most rugged. A steep ascent to Breche de Capitello, then an amazing ridge walk above lakes to reach Col de La Haute Route. Continue to past the Pietra Piana to Onda. Bivouac near refuge. Meals at own expense. Walking: 20km, 9 - 10 hours. Height gain 1500m, height loss 1700m. |
| Mon | Ref. L'Onda to Vizzavona. Traverse the summit of the Monte D'Oro, and descend through the forest to Vizzavona. In bad weather an alternative is to trek down the valley from Onda and walk the road route to Vizzavona. Night in a hotel, with dinner in the trek price. Walking: 10km, 6 hours. Height gain 1400m, height loss 1800m. |
| Tue | Vizzavona to Col de Verde. Another long day as you ascend to Col de Palmente, then cross the ridge to the Crete de Chufindu and then to Col de Verde. Here you make the transition from the high mountains to the hills of the south. Bivouac near refuge. Meals at own expense. Walking: 25km, 10 - 11 hours. Height gain 1900m, height loss 1600m. |
| Wed | Col de Verde to Refuge Usciolu. A steep ascent out of the trees to Col de Prati to the granite plateau, whose outcrops and ridges are followed to reach the Refuge Usciolu. Today involves some easy scrambling and extensive ridges. Bivouac near refuge. Meals at own expense. Walking: 14km, 7 hours. Height gain 1600m, height loss 1200m. |
| Thu | Refuge Usciolu to Refuge Asinau. Continue along the ridge, from side to side, then descend into the wooded plateau, before ascending to the summit of Monte Incudine, and the steep descent to the remote and windy Asinau refuge. Bivouac near refuge. Meals at own expense. Walking: 15km, 7 - 8 hours. Height gain 1200m, height loss 1400m. |
| Fri | Refuge Asinau to Col de Bavella. The penultimate day of the trek, past the Torres de Bavella. At the end of the day you arrive at the Col de Bavella, where there are a couple of small restaurants. You camp near these for the night, but there is access to a cooked meal if you prefer. Meals at own expense. Walking: 13km, 6 - 7 hours. Height gain 600m, height loss 900m. |
| Sat | Col de Bavella to Conca. The last day of the trek, to reach the 'official' end of the GR20. At the end of the trek you are transfered to Zonza, where you stay in a B&B for the last night and celebrate the end of the trek. Meal out at your expense. Walking: 19km, 7 hours. Height gain 700m, height loss 1670m. |
| Sun | Airport transfer for your return flights. |
| n.b. | ITINERARY NOTES: Where possible we follow itineraries. Mountain adventures are weather and conditions dependant, so occasionally we are forced to alter the plans. If this is the case, suitable alternatives are offered. Please use this outline itinerary as a guide to the types of route / activity that you will attempt. |
Course Prices
Standard course

13 full days UIMLA guiding, 1:8 max ratio
15 days holiday in total, Sunday-Sunday
£1999

Live availability

Click on the planner logo to the right to
see the real time live course availability

Secure online booking system
Standard Course Inclusions: 1) UIMLA Guide, 2) Course logistics & briefings, 3) Two nights half board hotel accommodation, one at each end of the trek, 4) Up to three nights half board in gites / huts (inc. costs for guides) during the trek, 5) Pre course information booklet, 6) Equipment discount voucher for our UK shop, 7) Free 36 page technical Course Instruction Booklet.
Exclusions: 1) Travel to and from Corsica, 2) Equipment hire, 3) Personal laundry, telephone calls, lunches, evening meals in valley, & any purchases in mountain huts / hotels / restaurants, 4) Food for during trek and optional nights in huts, 5) Airport transfers to / from the ends of the trek, 6) Activities insurance, & excess baggage charges.
Group sizes: 4 - 8 people per UIMLA mountain guide. For group sizes of over 8 people, there are multiple guides, and the teams travel independently of each other.
Current course availability

Course Dates

Corsica GR20

NOTE: This trip has scheduled
dates, but if there are four who
are booking together, it can be
operated on any date you wish
Client feedback


A tough trek, but expertly led, and constantly stunning scenary

Ralph T , Corsica GR20 trek


Apart from seeing a wild boar on the last day, which scared me more than a little, this trek was perfect!

Caroline P , Corsica GR20 trek


The northern section was more than I had ever dreamed of, and it was challenging but never too much

Janette S , Corsica GR20 trek

Testimonials

Press & media

Films & videos

Photo gallery
Location data for this trip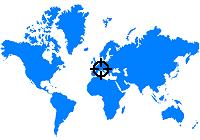 The trips all start in Calvi in the north of Corsica, which has direct flights.
Time Difference
GMT +1hr

Local Currency
€ Euros

Travel from UK
2hr flight
Regional details
| | |
| --- | --- |
| | When you apply to book on this trek, we will carefully check your previous experience. Ultimately you need to be very honest about your fitness and abilities. If you have to leave the tour due to being unable to cope with the physical demands you will be responsible for alternative arrangements. |
| | Nights spent in refuges are not included in the cost, and if you opt to stay in them, this is at your cost. Please note that hut spaces in huts can never be guaranteed on this trek. Refuges are generally basic but they provide cooking facilities, which are used whenever possible. As a back up, stoves are carried with the group. |
| | Most refuges now provide meals that you can purchase for between 10 and 20€ euros. These cannot be prebooked or completely guaranteed, so the group should each carry at least one day of basic emergency rations in addition to lunch and breakfast items. |
GR20 north & south maps
Trip leaders
On this course you are led by an International Mountain Leader (IML). This is the highest qualification for leading trekking groups in the Alps (where it is a legal requirement) and worldwide. To become an IML, it takes several years to train. During the treks their focus is on your comfort, enjoyment, education and safety, all of which are equally important. Being led by an IML to take you on a trek, you are hiring far more than someone to show you the way. You will learn about the environment, flora, fauna, glaciology, geology, and geography of the region. The leader will have a vast local knowledge. In terms of safety an IML can guide you on steep ground, on fixed equipment (ladders, chains, etc), and over snow patches.
Suggested reading and kit
| | |
| --- | --- |
| | View full course equipment list, with examples of kit, click here |
Any further questions?
A key part of choosing a company is being able to come and talk about your plans with an experienced course advisor face to face. In an increasingly virtual world, we know our clients value speaking to real people, getting open and honest advice. The vast majority of our clients are British, and our office and outdoor store is based in Windermere in the English Lake District.



Get in contact to arrange a meeting, and come in for a coffee to discuss your course in person with a trip advisor.