All trips suspended until further notice, due to the Russian invasion of Ukraine
#Ukraine #SlavaUkraini #HeroiamSlava
Course overview

| | |
| --- | --- |
| | At over 800m higher than Mont Blanc, Elbrus is the "Seventh Summit" of Europe. This is a physically tough ski tour, and although it is not as technical as a ski tour of Mont Blanc, the importance of previous altitude experience and acclimatisation is far greater. |
| | Although you require no previous climbing or mountaineering experience for this expedition, you are advised to be a competent ski tourer who is familiar with regular 6 - 7 hour day tours with up to 1300m height gains. |
| | You fly in and out of the local Caucasus town of Mineralyne Vody, from where you are transferred to Kislovodsk, which is the last town before the lower steppes of the Caucasus. This 10 day itinerary combines the enjoyment from riding powder snow whilst attempting the huge slopes of Mount Elbrus and seeing the remote and rarely visited Caucasian passes of the North side of the mountain. |
| | The accommodation used in the Caucasus varies from hotels in the valley, to a specialist base camp at 2500m, and a mountain hut/ refuge at 3800m. This accommodation provides dinner, bed, breakfast and hot drinks, and are the best starting point for the touring. |
| | Unlike our summer Mt Elbrus ascent, this ski tour goes from the North side of Elbrus as the south route involves crossing passes located in the Russian-Georgian border zone, so on the North side the border permit is unnecessary. There is also sometimes not enough snow in Adyl-Su and Adyr-Su valleys on the South side for ski touring, but on the North side there is good snow much later in the season at the same altitudes. |
| | Who are the guides? Our guides have been leading ski touring groups for years in this area. They know all the potential avalanche threats on the routes, how to avoid them and how to act in case of emergency. All our guides speak English and have radios and satellite phones. |
| | The mountain of Elbrus is an extinct volcano, conical in shape, with a crater rim on which the twin summits are perched. The higher west peak is reached by a steep snow climb from Sedlowina saddle, the col separating the peak. With good snow it is possible to ski tour all the way to the summit with a great powder run down. |
| | This expedition will appeal to those who have skied hut to hut trips such as the Haute Route or Ski Mont Blanc, who want to a challenging ski tour or to step up a gear in terms of altitude ski mountaineering. The weather is renouned for being cold and harsh, so good insulation equipment is essential. |
| | Dates: these are listed in the column on the right, and they show the live availability from our secure online booking system. When you book online, you receive immediate confirmation, your Icicle Elbrus expedition dossier, course specific kit list and invoice. |
Expedition notes

Our formula is to restrict the group sizes, so that there are a maximum of 10 clients. The guiding ratio on the ski touring days is usually 1:5, but on the summit day it is usually 1:3 (or max 1:4). The small group sizes enable us to run specialist ascents, where the group can bond well, and each expedition member has great access to the local English speaking guides.
Whilst every effort will be made to adhere to the planned itinerary, it must be realised that in this type of adventurous travel, changes to the itinerary may occur. Your final itinerary may differ in respect of the places where you stay overnight. Please bear this in mind, especially in the Caucasus!
On the ascent of Elbrus, you are guided by local guides who have detailed local knowledge. Local guides are not 'guiding' or qualified in the same stringent way as IFMGA International Mountain Guides, but work in a far more traditional sense as route finders and assistants to our expedition members, so a higher degree of adventure and autonomy is required than on our Alpine trips.
Our trips are privately run exclusively for Icicle clients where there are six or more people booked on a date. All the trips are guaranteed even for one person, and if there are five or less of our clients on a trip, you are matched with other clients from our partners. We use local logistics agents for visa invitations, guides, transport and accommodation. You are guided by an English speaking local guide on these trips.
With adventure travel, the unexpected is the norm in these areas and, despite painstaking planning and organisation, our adventure holidays can never be taken for granted like regular holidays. Many of the
places that we visit do not have the same quality of emergency health and safety services that we are used to in the developed world. Internal flights can be cancelled, road transport is generally uncomfortable and unreliable, and hotels and any star ratings often do not approach the equivalent standards of the West. If you are not prepared for this, you should not book on this style of trip. We see these factors as a selling point, and it really defines for us what adventure travel is all about.
Icicle Elbrus Expedition Itinerary
Day
Itinerary
Night
Meals
1
Fly to Mineralyne Vody Airport, to arrive for the group airport transfer departing at 14.30 (allow an hour after flight arrival for baggage collection, etc). The airport transfer takes approximately three and a half hours to reach the town of Kislovodsk, which is on the lower steppes of Mount Elbrus. In the evening there is an expedition briefing, and time to check and sort any equipment and answer any last minute queries. Dinner with the group. Night in hotel.
Hotel
n/a
2
After breakfast you can leave anything you will not need on the tour in the hotel as you return here on your last night. Then you load your kit into the off-road vehicles for the 90 kilometre drive towards Dzhily-Su where the base camp is located (2500m) and the ski tour route begins. As there are no asphalt roads this can be quite a slow journey and you will probably have to ski tour the last 15km to base camp. But the camp cook will be ready with hot tea and dinner when you arrive to compensate! Overnight at base camp.
Base camp
BLD
3

This morning there is time to prepare your touring kit and you only need to carry a day bag as you return to the base camp tonight. In the morning the guide will run through a reminder of how to search for buried objects using avalanche transceivers, and how to use the shovels / probes. Later you set off ski touring to reach the summit of Mount Tashlysyrt (3465m). This will involve all of your ski touring experience involving good ability and balance on the kick turns on the steeper upper sections. If the slopes are icy you may also have to use ski touring ski crampons, or even boot crampons and carry your ski's, to reach the top. At the summit there is time for snacks and photos before the great run through powder snow back to our last night in base camp. This will aid your acclimatisation and also gives great views of the glaciers of Mt Elbrus. You return to base camp for hot drinks and dinner. Night in base camp.

Base camp
BLD
4
An early start from base camp gives you ample opportunity to enjoy the ski tour and climb up to the High Camp. The route from base camp takes us above a narrow gorge and out of the high open areas and into the alpine zone, providing stunning views of the glaciers of Mt. Elbrus and the lower steppes of the Northern Caucasus. The last stretch of the ski tour leads through the snowed up jumbled rock moraine along the side the Mikelchiran Glacier, before cresting the final steep pitch and putting us in the hut for the night (3800 m). Group dinner in the evening. Night in mountain hut.
Hut
BLD
5
Today is an essential acclimatisation ski tour with an ascent to the Lenz Rocks (4800m). The route takes you over some easy angled glacial terrain with lots of crevasses. Usually it is possible to ski through the crevasses as they are covered and infilled with snow. Sometimes, it can be necessary to leave the ski's and to put on crampons and rope up to your guide, but the guide will teach all safety skills that are necessary. There should also be time to practice using the crampons and ice axes on the glacier. A good ski out back to the hut for dinner. Night in mountain hut.
Hut
BLD
6
Today is intentionally a lighter day after the exertions of the past couple of days, to allow the acclimatisation to stabilise, as you have increased your sleeping height to nearly 4000m. There is the opportunity for some short ski tours or ski runs, or to practice any technical elements of ropework or avalanche awareness that you are unhappy with. The main aim is to prepare for your summit attempt on Mt Elbrus itself tomorrow, so you should dry your kit, and pack and prepare your bags. Night in mountain hut

Hut
BLD
7
Today is the day to summit day Mount Elbrus! Leaving the hut at c. 03.00am you climb Elbrus' west summit (5642m). This takes c. 9 hours in total (c. 5 hours up and 4 down). If the snow conditions are good you should be able to ski tour all the way to the summit and have a fantastic long off piste run back to the hut. Sometimes if the upper slopes are very icy you may leave your ski's on the upper section and use boot crampons and ropes to reach the summit, before returning to your ski's for the run down. Either way there will be time for summit photos and celebrations at the top! Dinner & night in hut.

Hut
BLD
8
This is a spare day for a summit attempt, if it was not possible the previous day. If you were successful yesterday, today is spent descending the mountain back towards the valley. You will pack your kit and return to the base camp or hotel to get some well earned rest, dry your kit, and get some light celebrating in. If you use today to summit Mount Elbrus you will summit and ski back to spend another night in the mountain hut before packing tomorrow. Night in the base camp or mountain hut.
Hut or
Base Camp
BLD
9
Today is a reserve day for a ski tour down the mountain. Leaving either the mountain hut or the base camp after breakfast, you pack all kit and supplies and take them with you on the way out from the mountains. You return to meet the support 4x4 transfer vehicle at Dzhily-Su, then are driven back to the hotel and civilisation. Once back in Kislovodsk you can collect the bags you left at the start of the week. There is time for showers, then a celebratory meal in the hotel. Night in hotel in Kislovodsk.

Hotel

BL
10
Breakfast in the hotel, before the group return airport transfer to Mineralyne Vody airport, to arrive c. 10.30am. This is suitable for flights departing after 12.30. If your flight departs much later than 12.30 then a private airport transfer can be arranged for an additional charge (see exclusions section below).

n/a
B
Note that all these trips are 10 days long, and they start on different days of the week. In all cases the trips are eleven days long from arrival until departure.
ITINERARY NOTES: Where possible we follow itineraries. Mountain adventures are weather and conditions dependant, so occasionaly we are forced to alter the plans. If this is the case, suitable alternatives are offered. Please use this itinerary as a guide to the types of route / activity you attempt.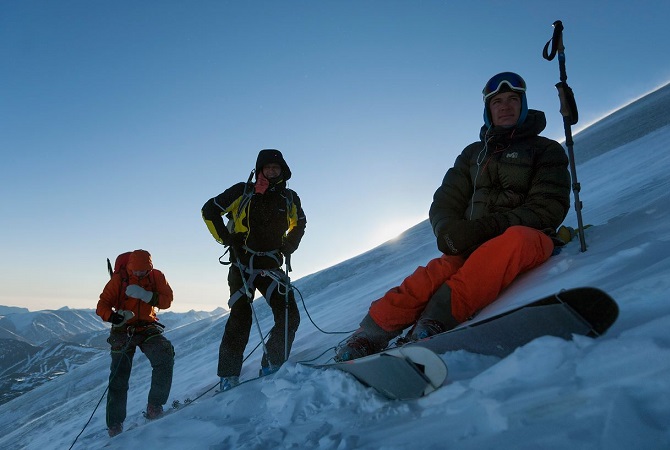 Course Prices
Standard course

8 full days Elbrus guiding, 1:5 max ratio
10 days holiday in total, e.g. Fri-Sun.
£1499

Live availability

Click on the planner logo to the right to
see the real time live course availability

Secure online booking system
Standard Course Inclusions: 1) Elbrus guides for daily leading and instruction, 2) Pre expedition Information dossier, 3) Equipment discount voucher for UK shop, 4) Two nights of hotel accommodation (twin or triple rooms) , four / five nights of hut accommodation (shared multi-sex dormitories) and three / four nights of base camp on a full board (dinner, bed and breakfast) basis, 5) Road transport in region to and from Kislovodsk and airport transfers (communal with rest of group, to leave airport at 14.30 on day 1 and drop off by 10.30 on last day - different transfer times available see note in exclusions), 6) All costs for expedition leaders, local guides and porters, 7) The guide provides all communal equipment (ice screws, rope, radios, satellite phone),but you provide your own clothing, ski touring ski's / boots, skins, ski crampons and avalanche and mountaineering kit (see dossier for full kit list), 8) Invitation letter for Russian visa, 9) Personal certificate for successfully summiting Elbrus, 10) Free (with UK postage) Icicle expedition kit bag.
Exclusions: 1) Travel to & from Mineralnye Vody airport, 2) Airport transfers from Minerlnye Vody airport outside communal times (as outlined above) these are c.£85 each way, 4) Single room upgrades in hotel (subject to availability, c.£85 extra), 5) UK and foreign airport taxes, optional trips, souvenirs and tips, 6) Extra valley hotel night and dinner on Wednesday or Thursday night if you descend to the valley (as that night is paid for in the base camp / mountain hut and cannot be refunded if not used / cancelled (c.£85 per person), 7) Your personal laundry, telephone calls, and any purchases in mountain huts / hotels / bars / restaurants, 8) Any cable cars or mountain uplift (note there are none on the north side of the mountain, so not usually required), and any use of the Snowcat (up to c.£100 per person up to 5000m, snowcat can take 8-10 people, only if going via south side), 9) Local national park fees (c.£25), 10) Extras before course: personal activities insurance, & excess baggage charges.
Icicle expedition kit bag for FREE
All those booking on this trip are entitled to a free Icicle expedition kit bag. This tough c.65 litre capacity kit bag is designed for full expedition usage and is made out of durable fabric, and features carry straps. It normally retails at £50. Postage within the UK is included in the prices. If you live overseas, it's not a problem at all. We'll let you know the price for postage. Want a second bag? Order another, click here.
Current course availability

Course Dates

Elbrus Ski Tour

Client feedback


The ascent was tough, and we partied a little too hard, so missed the last day of skiing, but that's no complaint at all. We loved the trip, and just need to acclimatise to drinking a bit better

Ali B , Ski Elbrus


I underestimed this ascent on skis, as I'd skied Mont Blanc before. For sure it was easier, but looking after myself with altitude gear was hard work. Great holiday, and as you know, a perfect summit day

Eric D , Ski Elbrus


I'm hooked on 'expedition-style' ski touring now, and it's all your fault

Pete G , Ski Elbrus

Testimonials

Press & media

Films & videos

Photo gallery
Snow cat on summit day?
As this ski tour starts and ends from the North side of the mountain, the use of the snow cat is not normally possible, but in some cases of weather or conditions where you have to try to summit from the south side of the mountain, the snow cat could be an option. Is this cheating? No more than using ski lifts in areas such as the Alps, and we highly recommend it A snow cat lift up to the Pastukhov rocks can be organised if booked before, to shorten the summit day by about 900m. This usually translates to between 2 and 3 hours of climbing, so isn't to be sniffed at. This is not essential, but is highly recommended to shorten the day a little, if you have any concerns about the cold, length of day, or the weather forecast. The guide will be able to advise you on the day before the summit on whether your group would benefit from using this. The cost of the snow cat is c. €500 up to 4800m €1000 up to 5000m which is split between all the clients, and don't worry if you are a small group as other groups on the mountain usually join together to split the cost.
Travel visas for Russia
A visa is obligatory for entry and travel within Russia for tourists, and should be carried with you throughout the trip as it (and all other paperwork such as passport, insurance or climbing permits) can be requested and checked at any time. When booking this trip, please ensure that you provide your full name, date and place of birth, citizenship, passport number and its date of issue (ensure it is valid for 6 months after your trip). You should supply a copy of your passport and your insurance to Icicle before you travel.


The Russian travel visa can be obtained in the UK direct from the Russian Embassy (click here). Our local Russian agent is accredited with the Russian Ministry of Foreign Affairs, and will issue a visa support invitation letter, usually 8 weeks before your trip. This you need to apply in person / by post at the Russian Embassy for your visa, or some opt to use a visa agent company (e.g. Action Visas / Visa Swift), to collect it in person for you.


Ensure that you allow at least 6 weeks before departure to arrange your visa, to allow for the bureaucratic process (it usually takes c. 4 weeks), unless you apply at an embassy in person in which case you can get the visa the same / next day at latest.


If you would like to spend time in Moscow before travelling to Mineralyne Vody you should ask us to arrange your night(s) of accommodation through our local Russian operators so that they can write a visa invitation letter for the full trip including Moscow (if you arrange your Moscow trip direct you will have to ask your accommodation provider for a separate visa invitation letter).


Further details are in the Icicle Elbrus trip dossier that you receive upon booking the trip, but don't worry too much as the visa application process is easy.
Flights to Mineralnye Vody
When flying from Europe, the easiest route is via Moscow Sheremetyevo (SVO) airport, then onwards to Mineralnye Vody (MRV) regional airport. There are no direct flights, and we advise that you avoid routes via Moscow Domodedovo (DME) or Moscow Vnukovo (VKO), because Moscow Sheremetyevo (SVO) is the main hub airport, and it lessens the risks of baggage delays in transit. You can check out flights and routes on Skyscanner (http://www.skyscanner.net). Return tickets at present from London Heathrow (LHR) cost in the region of £360 with Aeroflot (correct Sept 2014). This Icicle trip price includes the airport transfers to and from Mineralnye Vody airport to the Elbrus region on a shared transfer basis leaving on the first day at 14.30 and taking you back to the airport at 10.30 on the last day, different times are available at your cost (see section on exclusions below for private airport transfer costs).
Suggested reading and kit
| | |
| --- | --- |
| | View full course equipment list, with examples of kit, click here |
Why choose our trips?
See our trip report blog, by clicking on the Wordpress logo to the right.
Itinerary flexibility to allow you to take full advantage of the weather windows on any day, to maximise your summit chances.
Our prices are fixed in £ Sterling, to protect you from exchange rates, so you can budget accurately.
There is a choice of routes to opt for, depending on the weather, conditions, and your experience.
Any further questions?
A key part of choosing a company is being able to come and talk about your plans with an experienced course advisor face to face. In an increasingly virtual world, we know our clients value speaking to real people, getting open and honest advice. The vast majority of our clients are British, and our office and outdoor store is based in Windermere in the English Lake District.



Get in contact to arrange a meeting, and come in for a coffee to discuss your course in person with a trip advisor.