Grandes Jorasses 4208m

Ascents by Walker Spur or Normal Route, 2020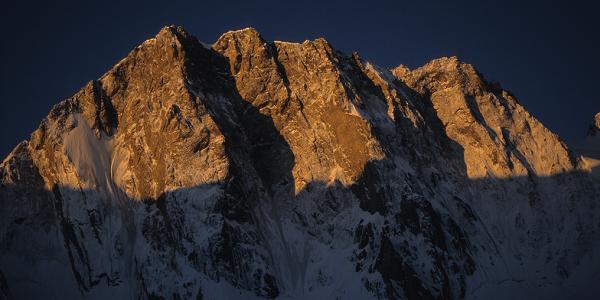 PHOTO: Sunset on the north face of the Grandes Jorasses. Photo: Benoit, Icicle Guide
FEEDBACK: "To be the only company to offer this route is one thing, but to
deliver it is quite another! Many many thanks" Connor F, Dublin
Course Overview
| | |
| --- | --- |
| | There are six classic north faces in the Alps; the Dru, Matterhorn, Eiger, Piz Badille, Tre Cima de Laverado, and the Grandes Jorasses. The finest climb of the six is the Grandes Jorasses due to the quality of the rock, the stature of the mountain, the location, and the amazing line that the classic route up the North Face (the Walker Spur) takes. The route leads directly up the huge left hand buttress of the North Face, to reach the highest point on the mountain, Pointe Walker. The main attraction of this route is that the conditions vary so much even in the same season. |
| | The summer see ascents at the start of the season in B3's and crampons, and in the middle of the heatwave ascents wearing just rock shoes all the way from the Bergschrund to the summit, taking just one day to complete the whole route. The course is designed to enable a strong Alpinist to develop their climbing relationship with their Guide over a week, in order to enable them to attempt the route in style, making a quick and efficent ascent to the summit. The descent route is over onto the Italian side, and back through the road tunnel to Chamonix. |
| | The kind of climber which this course should appeal to, will probably have already ascended some serious Alpine routes on their own without a Guide, such as the traverse of the Lion (Italian) Ridge of the Matterhorn, the normal route on the Dru, or the Aiguille Verte. For this level course we expect you to be very competant on Alpine D+ / TD grade routes, Scottish Grade IV Ice, and at least UK rock at E2 traditional outdoors. The Walker Spur is a huge route, and you must prepare suitably for it. |
| | Unlike any of the other courses, there is no point in attempting to set out an outline itinerary, as the course has to be developed for your precise requirements, and to take account of the likely weather. As this is such a major route, we suggest that you consider taking two weeks off, so that you can get out to Chamonix to train and acclimatise thoroughly before the Guiding. In this way the date that the Guiding starts can be quite flexible, to allow for a suitable weather window. This will maximise your chances of success, and will ensure that you don't waste the valuable Guiding days getting climbing fit for the ascent. These days really should be fine tuning, in final preparation for your climb. |
| | So that you get an idea of what the likely format of the course would be, you should allow at least three days for the Walker Spur itself. One day will be used to approach the Leschaux hut at the foot of the Grandes Jorasses. The second day will be taken by the ascent itself from the bergschrund to either a bivouac near the summit block, or even over the summit in the Italian hut. The third day will be taken completing the route and descending the mountain to return to Chamonix. As this shows, there are two days for training with the Guide in preparation for the route. |
| | Dates: Run on demand from June through to August. For current availability on this course click here. |

Course Photo Gallery

Walker Spur route description
The route starts from the Leschaux hut, and there is a hard slog up the glacier to the bergschrund of the Leschaux glacier, where it separates from the North Face. This rimaye is often difficult to cross, and often you have to abseil into it and climb out on the often overhanging top side, but once on the far side (at about 3000m) you reach the first rocks at the bottom of the spur. If you turn these rocks slightly to the right, then after a pitch of quite steep mixed climbing, you see a ramp of snow leading across to the left. The route follows this ramp across a line of weakness in the buttress, for another pitch until you are below the main buttress. The first feature is the 30m diedre (corner), which is quite blocky, with a roof on the left hand side. From the roof the route heads to the right for several rope lengths on slightly easier, though often mixed ground. Above this there are some snowy sections before you gain the crest of the spur, where the rock is very broken (and often loose), as you ascend towards the 75m diedre, which is about level with the base of the main icefield of the Shroud. The rock on the whole route is fairly sustained at IV and V, though the hardest section involves a few moves of VI, and the corner is usually very wet. At the top of the corner, the route turns into steep angles slabs, and finally a short chimney. Above you are some overhangs, which to get around you traverse to the right, and then make a short tension traverse abseil of about 10m to reach the base of a steep chimney. This abseil marks the halfway point of the route, and you are at the foot of the Grey Tower. At this stage you are approximately half way up the route, and the next stage is to climb up the tower. The steep chimney must be climbed, and then as you ascend the angle eases off slightly, until you reach a large block and some very steep dark coloured slabs, called the Black Slabs. The next section involves some quite difficult route finding as you follow crack systems upwards until you reach a slightly overhanging groove leading upwards. This is climbed until you reach a small ledge. From here you ascend some quite broken grey slabs to reach the right hand side of the main spur. The needle of the Grey Tower is on your left, and as you climb, you reach mixed ground, and a small hanging icefield, called the Triangular Névé. Above is the final large tower, which is slightly red in colour. The best way up this summit block is to traverse to the right on small holds, until you reach an area of cracks and chimneys leading upwards, which are red coloured. The rocks is quite shattered at this height, and eventually the route is barred by an overhanging buttress. Another difficult traverse leads to the right again, and you find a couloir. Once you are established in the couloir, this ascends to the left, almost behind the steep buttress, for a few pitches. Ahead you can see the shoulder of the summit block. Once this has been reached you are two pitches from the summit itself, and crampons are usually needed as you have to break through the cornice to finish the route, and reach the summit of the Grandes Jorasses at Pointe Walker at 4208m.
Course Prices
Walker Spur

5 days guiding, 7 days holiday in total
£3999

Normal Route

5 days guiding, 7 days holiday in total
£2499
Secure online booking system
Standard Course Inclusions: 1) IFMGA Mountain Guide for five days, 2) Chamonix course hosts for logistics & briefings, 3) B&B accommodation in Chamonix (inc. beddings & towels), 4) Pre course information booklet, 5) Equipment discount voucher for UK shops, 6) Free 36 page technical Course Instruction Booklet, 7) Road transport in Chamonix valley, 8) One night half board in mountain hut (inc. costs for guides), 9) Evening technical instruction on nights in Chamonix.
Exclusions: 1) Travel to and from Chamonix, 2) Equipment hire, 3) Personal laundry, telephone calls, lunches, evening meals in valley, & any purchases in mountain huts / hotels / restaurants, 4) Cable cars and uplift for you and your guide (cable cars for guide included in Chamonix), 5) Transport / tunnel ticket outside the Chamonix valley, 6) Activities insurance, & excess baggage charges.
Course upgrade options
Many clients on this trip consider upgrading with one or more of the following course additions...

Private
room

Mont Blanc
extension

Half
board

Acclimatise
weekend

Upgrade to single from
£300-£500 in addition to
standard course price,
depending on week.
Two day extension; 1:1
£1099, or 1:2 for £549
(booking together). Also
Matterhorn or Eiger.
Upgrade from B&B to
have 3 course evening
meals in Chamonix for
5 nights for £99pp.
Saturday night spent in
Chamonix, with choice
of self-guided or guided
on Sunday. From £50.
Click for details
Click for details
Click for details
Click for details

Standard course accommodation - normally clients are based in self-catered flats (details), so take a look, and decide if it's for you. For more luxury, contact us for quotes in higher standard apartments, or hotels of any standard required. If you have / source your own course accommodation, or we cannot provide an upgrade, the standard course price has a £100pp reduction applied on your invoice.
Follow our latest news
Any further questions?
A key part of choosing a company is being able to come and talk about your plans with an experienced course advisor face to face. In an increasingly virtual world, we know our clients value speaking to real people, getting open and honest advice. The vast majority of our clients are British, and our office and outdoor store is based in Windermere in the English Lake District.



Get in contact to arrange a meeting, and come in for a coffee to discuss your course in person with a trip advisor.