Aconcagua 6959m ascent 2020

Polish Traverse route for ascent, descending the Normal Route
| | | | |
| --- | --- | --- | --- |
| | | | |
| Climbing Skill | | Fitness & Stamina | |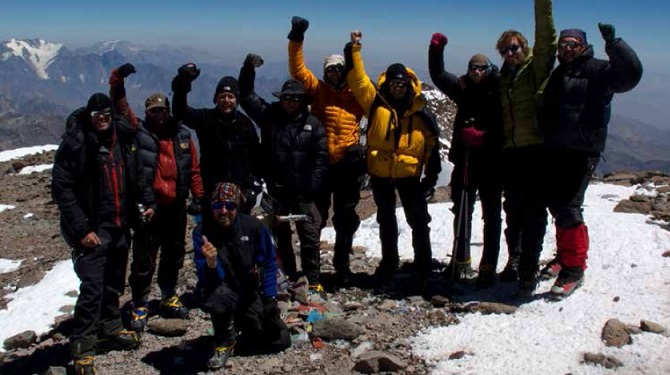 Course overview

| | |
| --- | --- |
| | Aconcagua is the "Seventh Summit" of South America. At nearly 7000m high, it is the second tallest of the 7 Summits, the only taller one being Mount Everest. Its name comes from the native Inca's who used to call the mountain Ancocahuac, the 'White Sentinal'. |
| | We follow the 360° route, which ascends via the Vacas valley to Base Camp in Plaza Argentina, then you climb the mountain via the Polish Traverse, befroe descending the Normal Route to Base Camp at Plaza de Mulas. On the climb from Base Camp, the middle of the mountain is covered by the Relinchos glacier, famed for its Neive Penitentes (ice spikes on the glacier). |
| | From the high camp on the Polish Traverse route, you follow the Falso de los Polacos across to join the Normal Route just beneath the Canaletta, the rock scramble to the summit, then descends the Normal Route to its base camp, so making a 360° circuit and ascent of the peak. |
| | The obvious primary aim of the expedition is to summit Aconcagua 6959m, but this expedition is much more than that. You will learn how to adapt your climbing rate to your acclimatisation level, which is an essential skill at altitude. The guide carries a pulse oximeter to monitor your acclimatisation. |
| | A key factor in the success of any expedition is its how well rested and fed the team is, and as the quote goes "an army runs on its stomach"! We have taken this point on board and have ensured that the base camp is as comfortable as possible, and that it provides good food. We use a local logistics team to provide full time base camps on both sides of the mountain with these services: |
| | Kitchen & Mess Tents with electric lights, tables, chairs |
| | Food: 3 meals a day (inc packed lunch) & hot drinks |
| | Portaloo / Toilet Tent, Showers, & Equipment Store Room |
| | Staff: trained cook, camp manager, and porters |
| | Safety: radios (HF & VHF 2m), Gammow bag, oxygen |
| | Skills & fitness: no previous mountaineering experience is required, but many have climbed an Alpine 4000m peak, such as Mont Blanc before. Very good aerobic fitness is required and upon booking you will be sent an expedition dossier with training training schedules. View it here, and look at training plan 4. |
| | Dates: these are listed in the column on the right, and they show the live availability from our secure online booking system. When you book online, you receive immediate confirmation, your full trip dossier, course specific kit list and invoice. |
Expedition notes

Our formula is to restrict the group sizes, so that there is normally a maximum of 12 clients. The small group sizes enable us to run specialist ascents, where the group can bond well, and each expedition member has great access to the local guides.
Whilst every effort will be made to adhere to the planned itinerary, it must be realised that in this type of adventurous travel, changes to the itinerary may occur. Your final itinerary may differ in respect of the places where you stay overnight. Please bear this in mind, especially in the mountains!
On the ascent of Aconcagua, you are guided by local guides who have detailed local knowledge. Local guides are not 'guiding' or qualified in the same stringent way as IFMGA International Mountain Guides, but work in a far more traditional sense as route finders and assistants to our expedition members, so a higher degree of adventure and autonomy is required than on our Alpine trips.
Our trips are not 'resold packages' from Argentinian operators, but are privately run trips exclusively for our clients where there are six or more on a trip. All dates are guaranteed, and if there are five or less of our clients on a trip, you are matched with other clients from our partners. We use local logistics agents for visa invitations, guides, transport and accommodation. You are guided by an English speaking local guide on these trips.
With adventure travel, the unexpected is the norm in these areas and, despite painstaking planning and organisation, our adventure holidays can never be taken for granted like regular holidays. Many of the
places that we visit do not have the same quality of emergency health and safety services that we are used to in the developed world. Internal flights can be cancelled, road transport is generally uncomfortable and unreliable, and hotels and any star ratings often do not approach the equivalent standards of the West. If you are not prepared for this, you should not book on this style of trip. We see these factors as a selling point, and it really defines for us what adventure travel is all about.
Outline expedition itinerary

| | |
| --- | --- |
| Day 1 | Arrival in Mendoza (760 m / 2,493 ft). Our driver will pick you up at the airport, and take you to your hotel. After checking in, you can relax or explore the many sidewalk cafes of the city. The trip guide will contact you to review the schedule for the next day. Evening meal not included in the trip price. |
| Day 2 | Mendoza. Team meeting, gear check, gear rental, climbing permit procedures. Your guide will help you getting through the bureaucracy. Checking the gear is important! Meals in Mendoza not included, but you can eat out very cheaply, and the local steaks and wine are very good. |
| Day 3 | Transfer in private vehicles from Mendoza to Los Penitentes, where the group will spend the night in a lodge (2,580 m/8,465 ft). In this small mountain village there is the logictics warehouse for preparation of the loads of the mules. / 3 hs drive. The evening meal in Penitentes is included. |
| Day 4 | Penitentes-Punta de Vacas (trailhead) - Pampa de Lenas camp (2,950 m/ 9,678 ft). After breakfast, we ride the van for a few minutes to Punta de Vacas where we get our climbing permits stamped at the Park Rangers checkpoint and begin the approach to base camp. After a 4-hour hike along Rio de las Vacas, we arrive at our first camp, Pampa de Lenas, where we enjoy a genuine asado criollo (gaucho bbq). For the entire hike to base camp, all you will need to carry is a day pack with some essentials; the mules will carry the rest. Breakfast, lunch and dinner are provided. |
| Day 5 | Pampa de Len~as – Casa de Piedra (3,240 m/10,630 ft). Hike to Casa de Piedra, our second trekking camp. Great view of the Polish Glacier, and the Eastern Face of Aconcagua from the trail. / 6 hs. Breakfast, lunch and dinner are provided. |
| Day 6 | Casa de Piedra – Plaza Argentina base camp (4,190 m/13,746 ft.). We follow the trail up the Relinchos Valley to Plaza Argentina. Our base camp chef greets us with a good dinner at a comfy dining tent: the perfect reward after the hardest day of the approach. / 6-7 hs. Breakfast, lunch and dinner are provided. |
| Day 7 | Plaza Argentina. Resting day at base camp. Sleep, read in the dining tent, or try the yoga mats in our heated domo: whatever you do, get hydrated! Breakfast, lunch and dinner are provided. |
| Day 8 | Plaza Argentina – Camp 1 – Plaza Argentina (4,800 m/ 15,748 ft). With the trek to base camp, and the first stage of acclimatization completed, the climb itself begins carrying gear to Camp 1. After getting equipment, food, and gas, we return to base camp. / 5 hs. Breakfast, lunch and dinner are provided. |
| Day 9 | Plaza Argentina. Rest day at Base Camp. Breakfast, lunch and dinner are provided. |
| Day 10 | Plaza Argentina – Camp 1 (4.800m/ 15,748 ft). The team leaves BC behind and moves to Camp 1 with the remaining gear. Our porters will carry the tents an other common gear, the climbers carry their own gear and their share of the common gear if needed (expect to carry a 15-20 kg backpack). / 4-5 hs. Breakfast, lunch and dinner are provided. |
| Day 11 | Camp 1 – Camp 2 – Camp 1 (5350m/ 18,143 ft). Gear carry to Camp 2, called the Chopper Camp, towards the Guanacos Valley side (North). Ashtonishing view of Mt. Mercedario and other peaks of the Ramada massif. Return to C1. / 4-5 hs. Breakfast, lunch and dinner are provided. |
| Day 12 | Rest day at Camp 1 (4.800m/ 15,748 ft). Breakfast, lunch and dinner are provided. |
| Day 13 | Camp 1 – Camp 2 (5.486m / 18,000 ft). Move to camp 2. / 5 hs. Breakfast, lunch and dinner are provided. |
| Day 14 | Camp 2 – Co´lera (high camp) (5.970 m / 19,586 ft). We move to our high camp, from where we will attempt the summit. / 4-5 hs. Breakfast, lunch and dinner are provided. |
| Day 15 | Summit day! (6.962m – 22,841 ft). We leave early to get the most of the (long) day. You will be carrying a very light backpack (water, snacks, some clothing, camera). / 8-12 hs. Breakfast, lunch and dinner are provided. |
| Day 16 | Extra weather day. To secure the success of the expedition we have added two additional summit days in case of bad weather. Breakfast, lunch and dinner are provided on the mountain. |
| Day 17 | Extra weather day. Breakfast, lunch and dinner are provided on the mountain. |
| Day 18 | Camp 3 – Plaza de Mulas Base Camp (4.350 m / 14,271 ft). We complete the Aconcagua traverse by descending the Northwestern face of Aconcagua (Normal Route), towards the lively BC of the Normal Route. Celebration dinner in dining tents with tables and chairs. Breakfast, lunch and dinner are provided on the mountain. |
| Day 19 | Plaza de Mulas – Horcones – Penitentes. The hike out takes approximately 6-7 hours. Most of the gear goes in the mules, so you walk light. From the trailhead at Horcones our van drives us to Mendoza, after picking up the gear at Penitentes. Hotel check-in (not included), end of the program. / 6-7 hs + 3-4 hs. |
| Notes | ITINERARY NOTES - Where possible we follow the itineraries, but as mountaineering is always weather and conditions dependant, we are sometimes forced to alter the plans. If this is the case, a suitable different route will be attempted, and you will be informed at the first suitable opportunity. Please use this outline course itinerary as a guide to the style of expedition, with good conditions, as it will not necessarily be an exact blueprint for the exact routes and schedule that you will follow on the expedition. |
Course Prices
Standard course

Up to 16 days guiding on Aconcagua
19 days holiday in total, in Argentina
£3499

Live availability

Click on the planner logo to the right to
see the real time live course availability

Secure online booking system
Inclusions: 1) Hotel accommodation in Mendoza as indicated in the itinerary, based on double occupancy. Note that climbers descending early will incur extra hotel fees, 2) One night of lodging in Penitentes (dinner and breakfast included), 3) Full board during the expedition (all the meals while in the Park, meals in Mendoza not included), 4) Fully certified, English speaking guides, 5) All shared gear for the expedition (sleeping tents, stoves and cooking gear, radio, etc), 6) Complete base camp services (dining tents, bathrooms, meals, storage), 7) All the transfers in licensed, private shuttles, 8) Pack mules for common and personal loads, to and from BC, 9) Permanent VHF radio communication, 10) Guides are equipped with professional first aids kits and pulse oximeters for daily updates of acclimatization progress, 11) High altitude porters for common gear carries, 12) Assistance with climbing permit procedure, 13) Sat coverage and tracking during the trip, through an InReach device. Tracking of the expedition available online.
Exclusions: 1) Travel to and from Mendoza in Argentina, and any visa fees, 2) Personal laundry, telephone calls, lunches and evening meals on nights in hotels, 3) Any purchases in base camps / hotels / restaurants, 4) Activities insurance, & excess baggage charges, 5) Any extra nights in Mendoza or off the mountain, due to summiting early or retreating early from the mountain, 6) Mt. Aconcagua State Park climbing permit (link) paid in cash (c. $980), 7) Personal porters, 8) Any cost incurred by the climber if he / she leaves the trip early (such as mules, transfers, guide, etc), 9) Meals in Mendoza, 10) Drinks in Mendoza and Penitentes.
Note: This expedition is guaranteed to go ahead, and there are no minimum numbers, even if just 1 person books. If you have a group of 6 or more, we can offer a private expedition just for your team.
Current course availability

Client feedback


What attracted me most to your trip was that is was actually led by a qualified mountain guide. This made me far more confident in the leaders experience and focus on safety. As it proved, this local knowledge and experience was crucial in deciding which day we went for the summit, to avoid the strong winds that had beaten other teams on the days before

Peter T , Aconcagua


Well organised with a great local team. The food at base camp was amazing, so a big thanks to Martha and her team at Plaza Argentina

Simon A , Aconcagua

Testimonials

Press & media

Films & videos

Photo gallery
Trip photo gallery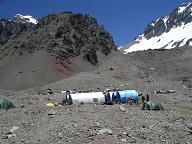 Suggested reading and kit
| | |
| --- | --- |
| | View full course equipment list, with examples of kit, click here |
Why choose our trips?
See our trip blog, by clicking on the Word-press logo to the right.
Itinerary flexibility to allow you to take full advantage of the weather windows on any day, to maximise your summit chances.
Our prices are fixed in £ Sterling, to protect you from $USD fluctuations, so you can budget accurately.
There is a choice of routes to opt for, depending on the weather, conditions, and your experience.
Any further questions?
A key part of choosing a company is being able to come and talk about your plans with an experienced course advisor face to face. In an increasingly virtual world, we know our clients value speaking to real people, getting open and honest advice. The vast majority of our clients are British, and our office and outdoor store is based in Windermere in the English Lake District.



Get in contact to arrange a meeting, and come in for a coffee to discuss your course in person with a trip advisor.