| | |
| --- | --- |
| Mera Peak 6476m Expedition | |
| | | | |
| --- | --- | --- | --- |
| | | | |
| Climbing Skill | | Fitness & Stamina | |
Course overview


Course dates & availability



| | |
| --- | --- |
| | If you have always dreamed of climbing in the Himalayas, this expedition gives you the opportunity to trek at altitude with spectacular views. |
| | Mera Peak is famous in the region as a trekking non technical ascent, yet because of its altitude and expedition ascent style, it will provide a challenge for experienced Alpine climbers. |
| | The length of the expedition ensures that your acclimatisation is developed slowly so that you can enjoy the trek and the ascents. |
| | The only requirement for this expedition is that you have good stamina and fitness, as all necessary climbing techniques can be taught during the expedition. |
| | Our formula is to restrict the group sizes, so that there are a maximum of 8 clients. The small group sizes enable us to run specialist ascents, where the group can bond well, and each expedition member has great access to the local guides. |
| | Although you require no previous mountaineering experience for this expedition, you are advised to be a competant trekker who is familiar with up to six hour days with 1300m height gains. As you will note from the itinerary, this expedition is quite intensive in order to ensure your acclimatisation. Upon booking you will be sent an expedition dossier & training training schedules. |
| | The expedition is led by local sherpas for leading on climbs, and an Icicle leader for logistics. The price includes internal flights to Lukla from Katmandu, land transfers, all climbing permits for the region, accommodation in tents, and the services of a camp cook and assistants. |
| | Dates: these are listed in the column on the right, and they show the live availability from our secure online booking system. When you book online, you receive immediate confirmation, your Alpine Information Booklet, course specific kit list and invoice. |

| | |
| --- | --- |
| | |

Client feedback

A great climb, and also a brilliant trek to reach the peak
Emma D , Mera

Once I'd recovered from the terror of the flight to Lukla, I loved every minute, until the return flight. Not a lot you guys can do about an airport perched on the side of the mountain!
Diana M , Mera
| | | |
| --- | --- | --- |
| | Currently FCO Advice: We always ahere to the travel advisory from the UK Foreign & Commonwealth Office Advisory, for all our expeditions. Click on the logo to the right for further information on the region. We support the FCO "Know Before You Go" campaign (click for details). These measures are to protect you, as if we were to offer a trip to this region during times of an advisory against travel, it is highly likely that your insurance would be invalid in case of any issues, and the costs incurred could be huge. | |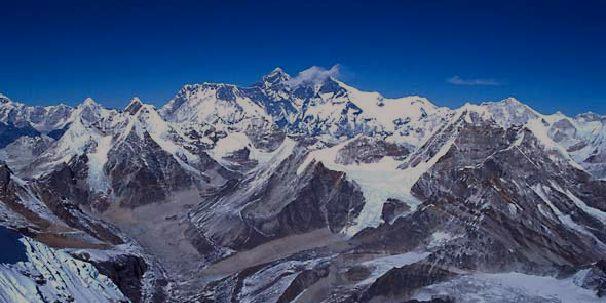 Expedition groups and experience
Our formula is to restrict the group sizes, so that there are a maximum of 12 clients. The small group sizes enable us to run specialist ascents, where the group can bond well, and each expedition member has great access to all the Icicle staff, and local guides and porters. This is more intimate than the mass group commercial style expeditions run by some operators, where the individuals needs and speeds cannot be catered for. Although you require no previous mountaineering experience for this expedition, you are advised to be a competant trekker who is familiar with up to six hour days with 1300m height gains. As you will note from the itinerary, this expedition is quite intensive in order to ensure your acclimatisation. Upon booking you will be sent an expedition dossier & training training schedules.
Who is the expedition aimed at?
The ascent of Mera Peak takes you to the summit of the highest trekking peak in Nepal. As the ascent is largely non technical, the expedition will appeal to those with basic mountaineering experience, who want to reach a summit in the Himalayas. The photo above shows the summit view across the Khumbu, and the horizon is dominated by the bulk of the Everest group, which includes Lhotse, Nuptse, Pumori, and Mount Everest itself. This is a rewarding experience as it provides glorious views of Nepal and a vista that takes in Kangchenjunga and Makalu to the east and Everest appearing over the massive southern aspect of Nuptse and Lhotse to the north. On the western horizon you can see the Himalayan scale versions of the Matterhorn, in the shapes of Kang Taiga and Ama Dablam, and further away still is the 8000m peak of Cho Oyu. This expedition is an ideal next step for those who have climbed Kilimanjaro, Mont Blanc or Elbrus, and who wish to develop their skills and altitude records further. We developed the itinerary of this expedition, to minimise the amount of time that you need to take off work, whilst maximising your experience of Nepal and taking in several famous cols and the summit of Mera.
Expedition summary
After flying to Katmandu in Nepal, you fly onwards to the imfamous landing strip of Lukla. Then the approach trek to the peak takes you through the lush Himalayan forests and foothills, before you climb over the famous Mera La col. Base camp is soon reached, and several days are allowed for the ascent, before descending the more direct route back to Lukla over the Zatrwa La pass / col. From Lukla you fly back to Katmandu, and from there back home.


Your acclimatisation
This is a key concern of anyone visiting the Himalayas or any high altitude peak for the first time, and we have done everything possible to make the ascent as comfortable as possible for you. Firstly our approach trek takes a longer route than the standard (and rapid) ascent to base camp over Zatrwa La pass / col from Lukla, that is offered by the vast majority of operators. Our longer trek both gives you access to a better wilderness experience in terms of the local farming communities and landscape, and this trek route provides far better acclimatisation due to the successive passes that are crossed, and the greater length of time allowed to improve fitness and acclimatisation.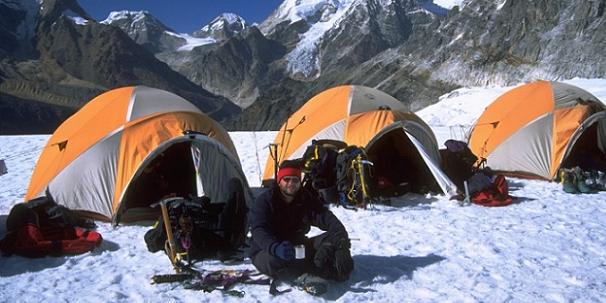 Fitness and experience
Although the mountain is classified as a trekking peak, for our Mera Peak Expedition, you should have a high aerobic level of fitness. We suggest that you equate this with being able to run a half marathon, preferably a bit more! The time does not matter, rather your aerobic stamina and endurance. As well as this level of fitness, all clients should have previous ice axe and crampon experience, to a similar level as someone who had completed one of our Alpine Intro 'Summits & Skills' courses. During the expedition, you will receive further instruction at the snout of the Mera glacier. Once everyone is up to speed in their ice skills, it is normal for groups to be able to attempt the summit, and to return to base camp in one long day. This makes the ascent Alpine style, as successive camps are not required. If the snow / ice conditions do not allow for this one day summit bid, we can establish an intermediary camp at 5800m on the Mera glacier. Obviously this makes the summit day much shorter, and so raises the summiting chances of everyone.
| | |
| --- | --- |
| Previous Skills - A good level of competence (stability) on crampons is a bonus, and previous skills level to those provided by an Introductory Alpine or Winter Skills course. Level of Fitness - Good to High aerobic fitness level. Upon booking you will be sent an expedition dossier & training training schedules. It can be viewed (and printed) by clicking on the link to the right. | |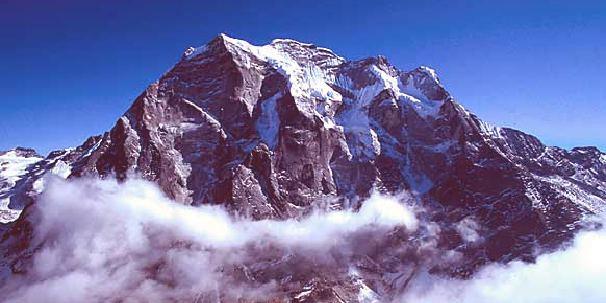 Icicle Mera Peak Expedition Itinerary
1
Fly to Kathmandu Airport. The flight is normally overnight, sometimes via Dubai or one of the Gulf states. Depending on your ticket, you will spend the night in a hotel or on the plane.
2
The flight arrives in Kathmandu, and you are met by the local team. Transfer to hotel. Time for shopping and sighseeing around the town. Expedition briefing and kit checks. Night spent in the Kathmandu hotel.
3
Flight to mountain runway of Lukla. Meet the main team of local sherpas, cooks and porters. Start the main trek to reach the village of Poyan at 2800m for the night. Night spent in tents.
4
Trek over the Poyan Khola pass far above Khare Khola, to reach Pangkongma at 2846m. This region has been affected by deforestation, so yak dung is used for fires! Night spent in tents.
5
The route ascends to Pangkongma La pass, which gives you the first good views of Mera Peak. Descend into the Hinku valley, cross river on wire bridge, ascend to Nashing Dingma. Night spent in tents.
6

Ascend to reach Chalen Kharka at 3600m via the Surke La pass. Even at this height, there is still vegetation surrounded by rhododendrons and fir trees. Night spent in tents.

7
Climb beyond 4000m for the first time today, over rough ground. You will see Jannu and Kanchenjunga. Pass Panch Pokari to reach the camp site for the night at Chunbu Kharka. Night spent in tents.
8
Today is a rest day, staying at the Chunbu Kharka camp. For those with energy, there are lots of local walks and easy scrambles to keep you busy. Night spent in tents.
9
Descend into the Hinku valley again, passing the site of the 1998 natural floods where a natural dam gave way, and the valley was scoured beyond recognition. Night spent in tents.
10
Cross the river and ascend the slops towards the days objective of Tangnag. You pass through the summer grazing pastures for yaks. The town has several great tea houses. Night spent in tents.
11
Today you emerge above the tree line for the rest of the expedition, and ascend towards Dig Kharka at 4650m, close to the Hinku Nup glacier, next to which you camp. Night spent in tents.
12
During the day, you trek onto the glacier for an ice school, to learn the use of crampons and axes, as these will be essential to reach Mera La and for the ascent of Mera Peak . Night spent in tents.
13
The trek ascends to Mera Peak base camp today, over the Mera Ma pass at 5400m. You descend just over the far side to reach the camp site for the night. Night spent in tents.
14
Another ice school on ther Mera glacier, to perfect your ice skills, and to confirm your acclimatisation for the next day. In the afternoon you should get some rest for the next days. Night spent in tents.
15
There is a choice of a long day for a summit bid, or to move up to a high camp on the glacier at 5800m. You will cross several crevasses to reach the high camp. Night spent in tents.
16
Summit day for Mera Peak. Set off early across the North Face glacier to reach the summit ridge and snow wall. We fix ropes on this section to reach the summit. Descend to Mera La. Night spent in tents.
17
Today is a spare day to allow for any bad weather or an additional summit bid. If the day is not nneded, you start the trek back down towards Lukla. Night spent in tents.
18
To walk back to Lukla by the most direct route can easily be done in four days (i.e. using Day 17) if required, but can quite feasibly be done in three. From base camp the route leads over the Zatrwa La pass at 4,600m, before it looses altitude quickly on steep paths into the Dudh Kosi valley, and on to reach Lukla. This route is new territory for you, so you have yet more reason to photograph all the peaks surrounding Mera itself. Once you are back in Lukla you can really relax, and visit all the bars and tea shops in the town.
19
20
21
Fly from Lukla back to Kathmandu. From the airport you are transfered back to the hotel. Enjoy your final afternoon in Kathmandu, and for a final celebratory meal. Night spent in Kathmandu hotel.
22
Breakfast in the hotel, then time for shopping for souvenirs before the return airport transfer to Kathmandu airport, then the return international flight back home.
| | |
| --- | --- |
| ITINERARY NOTES: Where possible we follow the itineraries, but as mountaineering is always weather and conditions dependant, we are sometimes forced to alter the plans. If this is the case, a suitable different route will be attempted, and you will be informed at the first suitable opportunity. Please use this outline course itinerary as a guide to the style of expedition, with good conditions, as it will not necessarily be an exact blueprint for the exact routes and schedule that you will follow on the expedition. | |
Course Prices
Mera Peak Expedition

22 days in total
£2599

+ 2 days Kathmandu

24 days in total
(2 nights hotel in Kathmandu for sightseeing)
£2799
Secure online booking system
Standard Course Inclusions: 1) Local guides for daily leading, 2) Icicle leaders if group has six or more clients, 3) Pre expedition Info Booklet, 4) Equipment discount voucher for in UK, 5) All hotel and hut accommodation in area on a full board basis, 6) Road transport in region and airport transfers, 7) All costs for expedition leaders, local guides and porters, 8) We provide all communal equipment (you provide your own clothing, mountaineering boots, and climbing equipment), 9) Peak permits for Mera Peak.
Exclusions: 1) Travel to & from Kathmandu airport, 2) Travel insurance, 3) Bar / restaurant bills & tips, 4) Evening meals on the first and last night in area (budget on £10 per night), 5) UK and foreign airport taxes, optional trips, souvenirs and tips, 6) Your personal laundry, telephone calls, and any purchases in mountain huts / hotels / restaurants, 7) Extras before course: personal activities insurance, & excess baggage charges.
Notes: This trip requires a minimum number of 4 people. If there are less than minimum numbers, the course can go ahead if you request it, but the price will rise. In this situation, should you choose not to continue your booking, you can opt for a full refund or a transfer onto another course or date.
Icicle expedition kit bag for FREE
All those booking on this trip are entitled to a free Icicle expedition kit bag. This tough c.65 litre capacity kit bag is designed for full expedition usage and is made out of durable fabric, and features carry straps. It normally retails at £50. Postage within the UK is included in the prices. If you live overseas, it's not a problem at all. We'll let you know the price for postage. Want a second bag? Order another, click here.
Follow our latest news
Any further questions?
A key part of choosing a company is being able to come and talk about your plans with an experienced course advisor face to face. In an increasingly virtual world, we know our clients value speaking to real people, getting open and honest advice. The vast majority of our clients are British, and our office and outdoor store is based in Windermere in the English Lake District.



Get in contact to arrange a meeting, and come in for a coffee to discuss your course in person with a trip advisor.