Peak Lenin 7134m expedition 2022
Climb the 3rd highest summit in the former Soviet USSR
| | | | |
| --- | --- | --- | --- |
| | | | |
| Climbing Skill | | Fitness & Stamina | |
All trips suspended until further notice, due to the Russian invasion of Ukraine
#Ukraine #SlavaUkraini #HeroiamSlava
Course overview

| | |
| --- | --- |
| | In the high border country of Central Asia, are the Pamir Mountains which link the Hindu Kush in the south, to the Tien Shan mountains in the north. The Pamirs contain several 7000m peaks, including Peak Lenin 7134m, which was the 3rd highest peak in the former Soviet USSR. |
| | Peak Lenin is a 7000m peak offering spectacular views across the Pamirs. It is a serious challenge in terms of stamina and altitude, with a long summit day. Whilst it is not a technical climb, there is avalanche risk especially in the mid mountain, and acclimatisation needs to be rigourous for a successful ascent. Our trip ascends two summits prior to Peak Lenin, to provide you with good levels of acclimatisation beforehand. |
| | The stamina and experience pre-requisites for this course are fourfold; 1) You should have a high level of fitness and stamina, for example being marathon fit, 2) Ideally you should have climbed other 5000m / 6000m peaks, such as Mount Elbrus, 3) Alpine / Scottish Winter experience of PD / grade II mountaineering, to have a sufficient experience of crampons and ropework skills, 4) You should be experienced of life in tents on snow, both in terms of campcraft and cooking with stoves in snow. |
| | The former USSR contained five 7000m peaks; Peak Lenin 7134m, Peak Communism 7495m, Korzhenevsky 7105m, Peak Pobeda 7439m, and Khan Tengri 7010m. There is still a Russian 'club' of climbers who have ascended all five of these peaks, and they are known as the Snow Leopards. |
| | Dates: these are listed in the column on the right, and they show the live availability from our secure online booking system. When you book online, you receive immediate confirmation, your Peak Lenin expedition trip dossier, trip specific kit list and invoice. |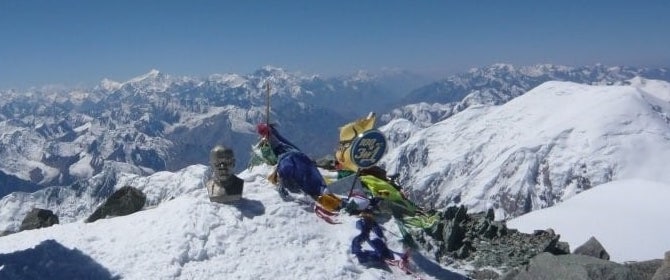 Expedition notes

ACCOMMODATION: In the city of Osh at each end of the trip, the accommodation is in a hotel double / twin room with breakfast. At the base camp of Achik-Tash and Camp 1, the accommodation is in two person tents. There is also the provision of electricity, toilet, shower, and sauna. There is also access to a satellite phone, at extra cost. In the higher Camps 2 and 3, there are pre-installed high-altitude tents.
MEALS: This is full-board at base camp and Camp 1. At these camps, all the food is prepared by a cook. At the higher Camps 2 and 3, food is supplied for expedition participants to cook. Each tent is provided with a gas stove(s), and the meals are pre-prepared by the base camp kitchen staff of high-altitude meals to prepare.
ROUTE: The location of the base camp is quite simply idyllic, nestled in a raised plateau between two steep sided river valleys. The route from base camp leads over the Puteshestvinikov pass to then ascend the moraines of the Lenin glacier up to Camp 1 at 4200m. From here the route climbs Razdelnaya, and over a more crevassed and avalanche prone section around Camp 2, before a short steeper section above Camp 3 which often has fixed lines. The gradient then eases as you traverse to the summit slopes, and the top is marked with plaques and a bust of Lenin himself, often obscured by drifting snows.
On the ascent of Peak Lenin, you are guided by local guides who have detailed local knowledge. Local guides are not 'guiding' or qualified in the same stringent way as IFMGA International Mountain Guides, but work in a far more traditional sense as route finders and assistants to our expedition members, so a higher degree of adventure and autonomy is required than on our Alpine trips.
Our trips are not 'resold packages' from local operators, but are privately run trips exclusively for our clients where there are six or more on a trip. All dates are guaranteed, and if there are five or less of our clients on a trip, you are matched with other clients from our partners. We use local logistics agents for visa invitations, guides, transport and accommodation. You are guided by an English speaking local guide on these trips.
With adventure travel, the unexpected is the norm in these areas and, despite painstaking planning and organisation, our adventure holidays can never be taken for granted like regular holidays. Many of the
places that we visit do not have the same quality of emergency health and safety services that we are used to in the developed world. Internal flights can be cancelled, road transport is generally uncomfortable and unreliable, and hotels and any star ratings often do not approach the equivalent standards of the West. If you are not prepared for this, you should not book on this style of trip. We see these factors as a selling point, and it really defines for us what adventure travel is all about.
Peak Lenin expedition itinerary

This is true expedition style climbing. In the high camps, you will need to cook meals on stoves, though the base camp cooks supply meals, and supplies for the high camps. You'll need to train hard, as each day you carry a 60 litre rucksack, which is sufficient to carry down clothing and bulky altitude kit. The itinerary is always subject to change for the weather, conditions, and how team members acclimatise. Many days are spent camping on snow and ice, so prior experience of this, and how you cope with it, is essential.
Services in Base Camp Achik-Tash:
- Accommodation in double tents with mattresses and wooden platforms.
- Meals - all provided (full board).
- Dining tent, WC, storage, baths and shower.
- Medical assistance in the base camp with a professional doctor.
- Electricity 220V, via a permanent electricity supply.

Services in Camp 1 at 4400m:
- Accommodation in double tents with mattresses and wooden platforms.
- Meals - all provided (full board).
- Dining tent, WC tent, storage tent
- Medical aid in the advance base camp with a professional doctor.
- Electricity 220V, 50HZ, only in the evening in the dining tent, supplied by a generator

Services in Camp 2 (5300m) and Camp 3 (6100m):
- Accommodation in already installed high altitude tents (2-3 people per tent)
- Meals (you cook prepared high altitude meals in the camps, which have been made by the base camp cooks. Stoves are provided).
| | | | |
| --- | --- | --- | --- |
| Day | Itinerary | Night | Meals |
| 1 | Arrival with any flight at airport Osh, accommodation at hotel. Flights direct to Osh are quite infrequent, so you could fly to Bishkek followed by an internal flight to Osh. | Hotel | n/a |
| 2 | Transfer from Osh to Base Camp at Achik-Tash 3600 m. For these transfers from Osh to Base Camp, off-road vehicles are used. The journey typically takes 6 - 8 hours. | Hotel | BLD |
| 3 | Day of acclimatisation at the Base Camp 3600m. Typically you travel light, and this day trek is to get your hill legs back after the journey to Kyrgystan and to Base Camp. | BC | BLD |
| 4 | Acclimatisation ascent on the slopes of Petrovskogo peak. Usually you ascend to about 4200m, then descend to prepare your bags to moving onto Peak Lenin tomorrow. | BC | BLD |
| 5 | Ascend to Camp 1 at 4400m. After leaving Base Camp, you traverse Lukovaya Polyana meadow and then climb steeply over Puteshestvinnikov pass 4100m, before descending to the Lenin glacier moraines and following them up to Camp 1 for the night. | C1 | BLD |
| 6 | Acclimatisation climb to reach Uhin Peak 5130m, and then descend back to Camp 1 for the night. This is your first summit of the expedition. | C1 | BLD |
| 7 | Rest day at Camp 1. This generally involves some training on glacier travel and perhaps a walk up to around 4700m. Acclimatise and resting. Night in Camp 1. | C1 | BLD |
| 8 | Hike up to Camp 2 at 5300m, which will be the highest point reached so far in the expedition. Overnight at Camp 2. | C2 | BLD |
| 9 | Acclimatisation climb up to Camp 3 at 6100m. Overnight at Camp 3. You will certainly feel the effects of altitude on this day, but the next day is only a short climb. | C3 | BLD |
| 10 | Ascent to Peak Razdelnaya 6148 m, followed by the long descent all the way back down to Camp 1 at 4400m. From the top of Razdelnaya, there are stunning views to the Hindi Kush and Korzhenevskya. | C1 | BLD |
| 11 | Descent to the Base Camp 3600m, and spend the afternoon drying out your kit. | BC | BLD |
| 12 | Day of rest at the Base Camp 3600m, after the past few tough days of acclimatisation. | BC | BLD |
| 13 | Day of rest at the Base Camp 3600m. This is also a contingency day for bad weather, as the route to Camp 2 can be prone to avalanche after recent snowfalls. | BC | BLD |
| 14 | Ascent to Camp 2 at 5300m. The route is quite crevassed, so all the team moves roped up for safety. The camp is situated on the rocky spur to the right of the glacier. | C2 | BLD |
| 15 | Ascent to Camp 3 at 6100m. This is the steepest section of the climb, but the previous acclimatisation will really kick in now. Use fixed ropes on final section to camp. | C3 | BLD |
| 16 | Summit day on Peak Lenin 7134m. After the fixed roped, an easy rocky ridge leads to the summit plateau. A col gives way to the summit, which is marked by several plaques, and a bust of Lenin. The views stretch across the length of the Pamirs. On a very clear day you can see the Karakorum to the West, and Muztagh Ata to the East. | C3 | BLD |
| 17 | Descent to Camp 2 at 5300m and then to Camp 1 at 4400m. This is a long descent, but it is important after the efforts of the summit day, to recuperate quickly. | C1 | BLD |
| 18 | Reserve day in case of inclement weather for the summit day or acclimatisation. | C1 | BLD |
| 19 | Descent to Base Camp at 3600m, clearing all your personal kit off the mountain. | BC | BLD |
| 20 | Transfer to Osh. Accommodation at hotel. Once back in the valley there is time for showers, then a celebratory meal in the hotel. Night in hotel. | Hotel | BL |
| 21 | Flight from Osh. Breakfast in the hotel, before the group return airport transfer. | n/a | B |
ITINERARY NOTES: Where possible we follow itineraries. Mountain adventures are weather and conditions dependant, so occasionally we are forced to alter the plans. If this is the case, suitable alternatives are offered. Please use this itinerary as a guide to the types of route / activity you attempt.
Course Prices
Standard course

English speaking guides, 1:3 min ratio
21 days expedition in total
£2999

Live availability

Click on the planner logo to the right to
see the real time live course availability

Secure online booking system
Standard Course Inclusions: 1) English speaking guides for daily leading and instruction, 2) Pre expedition Information dossier, 3) Equipment discount voucher for our UK shop, 4) Two nights of hotel accommodation in Osh on a B&B basis (twin or triple rooms) and tented accommodation (generally 2 sharing, up to 3 in high camp) on the mountain on a full board (dinner, bed and breakfast) basis, and lunches on the way to and from base camp, 5) Road transport in region and communal airport transfers, 6) Border zone permit, local registration, and visa support (if necessary), 7) We provide all communal equipment (you provide your own clothing, mountaineering boots, and climbing equipment), 8) Registration with rescue team, 9) Ecological fee, 10) Free (with UK postage) Icicle expedition kit bag.
Exclusions: 1) Travel to & from Osh airport, 2) Evening meals on the first and last night in the hotel (budget on c. £20 per night), 3) Airport transfers outside communal times, 4) Single room upgrades in hotel (subject to availability, c.£85 extra), 5) UK and foreign airport taxes, optional trips, souvenirs and tips, 6) Extra valley hotel nights and meals if you descend early to the valley, 7) Your personal laundry, telephone calls, and any purchases in mountain huts / hotels / bars / restaurants, 8) All optional deviations from the advertised itinerary, 9) Any services for optional porters on the mountain, 10) Extras before course: personal activities insurance, & excess baggage charges, 11) Visa application costs (not usually required), 12) Equipment rental.
Porter services: 1) Base Camp (3600m) - Camp 1 (4400m): $3 USD/kg. 2) Camp 1 (4400m) - Camp 2 (5400m): $10 USD/kg. 3) Camp 2 (5400m) - Camp 3 (6100m): $20 USD/kg. 4) Above Camp 3 (6100m): $35 USD/kg.
Icicle expedition kit bag for FREE
All those booking on this trip are entitled to a free Icicle expedition kit bag. This tough c.65 litre capacity kit bag is designed for full expedition usage and is made out of durable fabric, and features carry straps. It normally retails at £50. Postage within the UK is included in the prices. If you live overseas, it's not a problem at all. We'll let you know the price for postage. Want a second bag? Order another, click here.
Current course availability

Course Dates

Peak Lenin 7134m
Testimonials

Press & media

Films & videos

Photo gallery
Travel visas for Kyrgystan
VISAS & PERMITS: Currently UK citizens and several other countries do not require a visa to enter Kyrgystan. If you are not a UK citizen, you should check directly with your local Kyrgyzstani embassy or consulate. All passports should be valid for a minimum of 6 months after the return date of your trip. Further details are in the Icicle Peak Lenin trip dossier that you receive upon booking the trip. Note that Peak Lenin is located in the border area where a special permit is required. It takes up to one month for our local agents to get this border permit ready, so we do not accept bookings within 6 weeks of departure.
Safety notes for this trip
| | |
| --- | --- |
| | EXPEDITION: We offer a guided expedition, not a guaranteed summit. If any climber cannot continue further up the mountain, they can descend to a lower camp to await the others. The weather plays a crucial part in whether the summit is reached, but you need to physically prepare for the ardour of this trip. |
| | SAFETY: The guides are all very experienced, and carry key safety equipment, first aid kit, and a radio to communicate with the lower camps and the mountain rescue services. In addition, there are professional doctors at the lower camps who can provide any necessary medical treatment. If required helicopter transportation can be arranged. |
| | RESTRICTIONS: For this trip we only accept climbers aged 18 or above. Due to the relatively restricted access to medical services, we cannot accept anyone with any form of heart disease, asthma, diabetes, or any psychological disorder. By self declaring our booking form, you are confirming that you do not have any of these medical issues. |
| | TELEPHONE: There are satellite phones at the base camp at Achik-Tash and Camp 1. There is currently no mobile network coverage on the mountain, hence the stringent medical restrictions on this trip. |
Suggested reading and kit
EQUIPMENT: When you book, you are sent a detailed equipment list. Note for this trip that you will require a 60 litre rucksack, to carry your personal kit including the bulky down jacket and sleeping bag for high camps. Here are the key elements of kit for this trip;


1) Down sleeping bag rated to -20°C
2) Altitude double layered boots
3) 12 point crampons
4) Alpine style safety harness
5) 2x krabs, 2x slings, 1x ascender
6) Down jacket designed for 7000m
7) Mountaineering waterproofs
8) Category 4 UV sunglasses
| | |
| --- | --- |
| | View full course equipment list, with examples of kit, click here |
Logistics notes for this trip
| | |
| --- | --- |
| | BAGGAGE: We always encourage trip participants to travel as light as possible. Most airline allowance is 20-23kg. Many people travel in their mountain boots so they can't go missing, and wear climbing clothing, to avoid excess baggage charges. Any extra kit not required on the mountain can be stored at the hotel. |
| | HEALTH: Your vaccinations should be up to date for Polio, Tetanus, Hepatitis A, and Typhoid. In the area, all not bottled water must be treated (chlorine tablets) or boilded. The guide carries a group first aid kit, and there are doctors at lower camps, but your personal first aid kit should include compeed, blister kit, plasters, and any medication you require are prescribed. |
| | CLIMATE: The weather in this area of Kyrgystan is mixed, and the temperatures range from +20°C in the day to -25°C at night at altitude. The region is temperate, so good waterproofs are required too. |
| | INSURANCE: As soon as you book, get insuance for you having to cancel your trip, and to cover you on the expedition for medical expenses, mountain rescue and helicopter evacuation, and repatriation. Before you travel, we require a copy of your insurance policy. |
| | EXTRAS: This trip is fairly inclusive of all local costs, but take $250 USD to convert to local currency on arrival, to cover your meals in Osh, and any tips (c.£50 max in total per climber is recommended) or souvenirs. |
Why choose our trips?
See our climbing blog, by clicking on the Wordpress logo to the right.
Itinerary flexibility to allow you to take full advantage of the weather windows on any day, to maximise your summit chances.
Our prices are fixed in £ Sterling, to protect you from exchange rates, so you can budget accurately.
There is a choice of routes to opt for, depending on the weather, conditions, and your experience.
Any further questions?
A key part of choosing a company is being able to come and talk about your plans with an experienced course advisor face to face. In an increasingly virtual world, we know our clients value speaking to real people, getting open and honest advice. The vast majority of our clients are British, and our office and outdoor store is based in Windermere in the English Lake District.



Get in contact to arrange a meeting, and come in for a coffee to discuss your course in person with a trip advisor.