Self-guided Chamonix treks 2024
Trekking in stunning scenery in the Mont Blanc massif
Self-guided Chamonix trekking holiday
Self-guided prices

Self-guiding is a rapily growing market, but for those who have not come across the concept before, it couldn't be simpler. You guide yourself and all the logistics are arranged for you. In other words there is no guide or group leader, but we organise all the boring bits so you don't have to; route information, maps, hut bookings etc. You get the advantage of walking with your friends, at your pace, rather than as part of a group.
We are the only operator to offer self-guided Chamonix treks, who has an logistics team in Chamonix, where you check in and are given a full briefing by one of our guides. This base is an essential resource for you, in case you need to change hut bookings or any part of your itinerary. It is there, with a 24 hour emergency number, to support you throughout your trek. This level of support is not possible from others offering self-guided from the UK...
During your briefing in Chamonix, you are given a map (for you to keep) of the area you trek in. We provide you an original copy of a map with similar detail to Ordnance Survey in the UK. As well as this you are provided route cards for each stage of the trek, and these are key navigational aids, as well as providing lots of details of the sights and peaks you will see along the way.
We consider that the detail and accuracy of our routecards are a key selling point for our self-guided treks as they have been meticulously researched and produced by our guiding team. The routecards are waterproof and also detail emergency escape routes, local numbers, and key information about the route. You must note that these routecards used on self-guided treks are suggestions, and that should you opt to alter any section of the route, you would be operating outside the remit of the Icicle holiday. You are totally responsible for your own safety on self-guided treks, as there is no guiding element to the package. One set of routecards, maps, etc is provided per group, so that you have everything you require, but aren't carrying excess kit.
Prices of self-guiding Chamonix treks. This self-guided trek involves 5 days trekking, and 2 travel days (7 day holiday). The prices are as follows: 1-3 people = £199 in total, and for 4-6 people = £299 in total. Please note that these prices are NOT per person, but in total.
Inclusions
Booking of the B&B valley accommodation of your choice in your name.
New map(s) of the route, for you to keep even after your trek is finished.
The detailed Icicle route information cards, so you know where to go.
Language cards with key phrases, so you can communicate confidently.
Emergency procedure and mountain rescue card, in case of an incident.
Local information sheets, with details about the region and key sights.
Briefing on arrival about the route and kit to take, from a UIMLA guide.
24 hour in-resort emergency contact support through our Chamonix team.
Exclusions. Travel to Chamonix, all accommodation / food / lodging costs, activities & travel insurance, equipment hire, all other costs as required such as valley transport via bus or train.
It is a popular feature for self guided groups to opt to be guided for a couple of days near the start of their trek, so that the leader can advise them on the route, and ensure that their navigation skills and equipment selection is correct for the rest of the tour. The cost of guiding is from £200 per day.

How to book a self-guided trek?

Our itinerary can start on any day that you choose, so decide what day you would like to start your trek, and get in touch with us by e-mail. We will then upload a private self-guided trip onto our online booking system, that is in your name, and then you can book and pay securely online. You receive an immediate e-confirmation and equipment list to help you start packing, as well as an Alpine Courses Booklet. You receive your trip detailed itinerary and walking notes etc in Chamonix.

Price: £199 1-3 pers
Price: £299 4-6 pers
Note that these are the total prices, NOT per person.

Trip daily itinerary

Day 1 - Travel out to the Alps and Chamonix to arrive for full briefings on kit and accommodation. Night spent in Chamonix.

Day 2 - Cable car to the Plan d'Aiguille, then trek across to Mer de Glace via Signal, and down to Chamonix for the night.

Day 3 - Train to Montroc then trek over Aiguillette des Posettes, to reach Col du Balme. Cable car or trek to Le Tour. Return to Chamonix for night.

Day 4 - Train to Montroc then hike across Aiguilles Rouges via Lac Blanc to Flegere or Planpraz, then descend for the night.

Day 5 - Hike from the village of Vallorcine to Chalets de Loriaz and into the Berard valley, before descending to Le Buet, and back to Chamonix.

Day 6 - Cable car up to Brevent, then hike to Col du Brevent and across to Moede Anterne, before descending to Servoz to catch the train back to Chamonix for the night.

Day 7 - Breakfast then depart back home.
When is the best time of year to travel for Chamonix trekking
| | |
| --- | --- |
| | The best season is from mid June until mid September. In the first few weeks of the season, there is a greater chance of extensive snow patches on the high passes, and this risk also exists for the last couple of weeks of season too, as the Autumn snows may start early (though generally not). |
| | For these reasons the July and August period is generally the best for conditions, but you have to counter that by pointing out that it is also the busiest due to holidays. Also in the key two months it can be hot, and afternoon convection thunder storms are more frequent, but generally in June and September it is slightly cooler, especially at the end of the season with shorter days. |
| | If your snow skills are good then consider dates in June, otherwise July to mid September is better. If you are worried about the conditions, we really cannot stress enough that you should opt for a guided trek, as we have never had a guided group to date that has failed to complete this trip due to weather or conditions. |
Got any questions?
We are sure you have, and have spent a while producing a very detailed questions & answers page. Just click on the link, and the page will open in a new window for you. However, please do note that this page is for self-guided groups, and we obviously expect a good level of self sufficiency from those undertaking this method of trekking. If any of your questions ring alarm bells, we'll let you know ;-)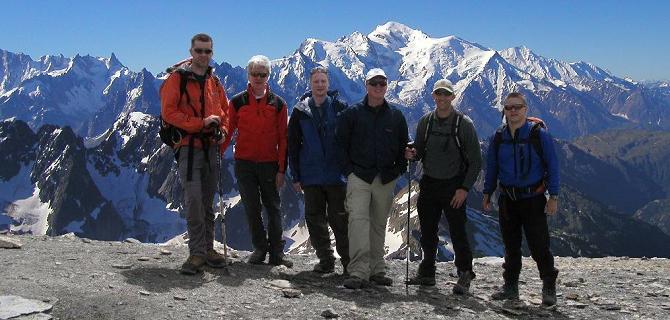 Will the self-guided Chamonix trekking option suit you?
Many people contact us about whether the self-guided option would suit them in terms of experience. All we ask is that you feel confident in the following...

| | |
| --- | --- |
| | Navigation in poor visibility, such as dense cloud / snow, or even in the dark. |
| | Security on steep / loose ground in terms or personal ability and the group. |
| | Language skills in case of an emergency, or for day-to-day communications. |
| | First aid training and medical awareness, especially of altitude sickness. |
| | If you are unsure at all about any of these points, consider a guided trek. |
Follow our latest news
Any further questions?
A key part of choosing a company is being able to come and talk about your plans with an experienced course advisor face to face. In an increasingly virtual world, we know our clients value speaking to real people, getting open and honest advice. The vast majority of our clients are British, and our office and outdoor store is based in Windermere in the English Lake District.



Get in contact to arrange a meeting, and come in for a coffee to discuss your course in person with a trip advisor.