Icicle - corporate mountain events experts



Welcome to the Icicle base camp for organising corporate mountain events in the Lake District, Alps and around the world. Icicle Events is the VIP corporate mountain events logistics branch of Icicle Mountaineering Ltd. The only limit to the events we can manage is your imagination, and you can be as hands-on or hands-off in the organisation, as you'd like. We have decades of expertise in offering guided mountain adventures to climb, trek, ski & run.


Our logistics base and HQ is in Windermere in the English Lake District, which is an amazing hub in the midst of the national park. As well as offering events in the Lake District, we frequently organise events in the Alps, and further afield to destinations such as Kilimanjaro in Tanzania, and Mount Toubkal in Morocco. The key to our success is our 'little black book' of mountain guiding experts, local facilitators, and great venues.


We create a huge range of VIP executive services, which provide inspirational, meticulously planned, and high quality business events for your clients and employees. Our expertise is a result of decades of experience, led by the same management team, where continuity, integrity, quality and descretion are our watchwords. As a result we have built up an unparallelled reputation for results, and seamless service.

Exceptional mountain activities and events management
Bespoke guided events

Mountain Professionals - our team of guides and leaders has been built up slowly and carefully over the years, so you will be led by the best in the business.

Challenges - we will work with you at the planning stage, to develop a unique bespoke product and / or challenge for your corporate event, that is a realistic goal.

Group - let us know if you are developing an incentive, launching a product, filming an experience, or celebrating a goal, and we will help you build the trip of a lifetime.
Mountain activity leaders

Activities - tailor your selection of activities to suit your objectives, and we can suggest the best venues.

Team building - many corporate teams have a key objective that is building the relationships within the team, and we can provide coaching and activities to support this.

Flexibility - our leaders have a vast experience of the mountains, and a can-do attitude, so if the weather doesn't play ball, we always will ensure that your corporate event will continue, and is adapted safely. Rain does not stop play!
Motivational & inspirational

We will help you develop an event that is motivational and memorable to all your team / guests.

Corporate events are unique opportunities to build teams, treat clients, and showcase your business and products. We will help you achieve these goals.

We are very brand aware, and will only develop corporate events that we believe fit with your ethos, and those of our own corporate ethics. We respect the mountains, and operate events with minimal impact on the environment.



Lake District and the Alps - perfect base camps for your team

Which mountain venue?

Lake District - with adventures right from the door, the Lakes are a great venue for a corporate event, and the mixture of mountains, cliffs, rivers and lakes provide a plethora of opportunities throughout the year. Activities that the Lakes are famed for include rock climbing, fell walking, ridge scrambles, and fell running.

Chamonix - this is one of the most accessible Alpine resorts, and offers a huge range of facilities and a wide range of activities, skiing, climbing, snowshoeing, hiking, paragliding, rafting, dog sledding, glacier ice climbing, and trail running. The town of Chamonix is nestled at the foot of Mont Blanc, the highest mountain in Western Europe.

Worldwide - we operate corporate trips, conferences, and business events in mountains across the world, using our contacts and guide team to develop a bespoke itinerary to suit your needs. Let us know where you want to go!
Getting to the mountains

Lake District - there are great transport links via the West Coast rail mainline, with London only 3.5 hours away. There is a branch line from Oxenholme to Windermere. The nearest international airport is Manchester. Road access is via the M6 motorway. Within the national park, we provide event transport.

Alps - the resorts with the best range of activities and facilities include Chamonix, Zermatt, Verbier and Courmayeur. The closest major airport in Geneva, and regionally there are flights to Sion. Local rail and road transport links are easy.

Airport transfers - we organise airport transfers for any group size, direct to your accommodation. The transfer time to Chamonix from Geneva is just over an hour.

Icicle holds an ATOL licence, so we can arrange flights to any of the mountain venues, if required. We are the only mountain corporate events company to be ATOL bonded.

Select your logistical needs

All transport to and from the airport / train station, and for all your in-resort transport requirements.

Quality accommodation and a choice of catering to meet your requirements and budget.

Business meeting rooms with conference facilities, and corporate entertainment venues for parties.

Inspirational corporate events, that can be operated in the daytime, or as night time challenges.

Presentations from key note speakers from the world of mountain sports and endurance.

Events designed for you as incentives / prizes / training / team building, as required.

A tailored action and events plan that is delevoped with you, to involve and inspire you every step of the way from the initial enquiry, until your corporate event concludes.
What sets Icicle apart for your corporate events?

| | |
| --- | --- |
| | Price - We are highly aware that corporate coffers aren't limitless, and you focus on margins for the rest of the year, so tightly control the event budget for you, to deliver it for the agreed price. |
| | Experience - We have a perfect safety record for all our mountain events, and this is due to high standards of quality mountain guiding, detailed risk assessments, and adapting to your needs. |
| | Attitude - Our focus is on making things happen, and achieving the goal. We know that challenges adapt in life, both on the mountain and in the boardroom. Our focus is on getting it done. |
| | No waffle - We renowned for walking-the-walk, not talking-the-talk. Being doers not talkers highlights our drive to provide the best events possible, and letting them do the talking for us. |
| | Flexibility - Mountain environments are highly dynamic and flexible in terms of weather and conditions, and we ensure we build in contingencies and alternatives to all our event plans, to ensure we deliver. |
| | History - We've been trading for nearly twenty years, and our relationships with specific guides, film crews, accommodation and venue providers, have been established and tested over the years. |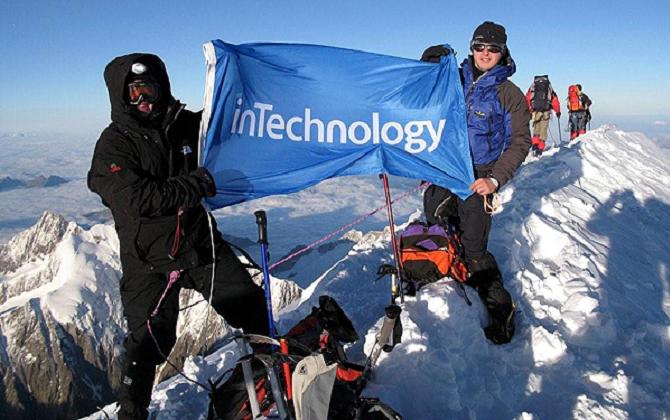 Group course discounts
If you are organising a group to attend one of our scheduled courses or trips, and you all book at the same time (all within a week), the following scale of discounts and offers are applied to any of our scheduled (non-bespoke) trips...


12+ people - the group organiser goes completely for FREE


9 - 11 people - group organiser gets a 50% reduction in the price


7 - 8 people - group organiser has a 25% reduction in their price


The value of the discount applies to the single person booking of the group organiser, who generally elects to share the discount amongst all members of the group, or to themselves if the group agrees. Larger groups may benefit from better discounts, if they arrange this before booking. Contact us to discuss.


These discounts are usually the ideal for smaller teams, who want to achieve a specific objective, such as flying their corporate flag from an Alpine summit, or as a management team challenge. All our scheduled trips have advertised ratios, and if you fill a trip, we can run it as a private event for you and your team.
Dedicated logistics base
Icicle Events are coordinated, and the logistics arranged, by the experienced team in our Windermere HQ. We work closely with you and our mountain safety and guiding team, to produce exacting products to meet your needs, be it a product launch, mountain film shoot, or strategic meetings and activities.


We are a multiple award winning, fully registered international tour operator, who is fully bonded for your safey and total financial security. Book with the best!

Corporate groups in the UK
For larger groups we can organise any of the activities or adventures in the Lake District leaflet below, with a greater corporate or team building focus. All larger groups have more instructors and a safety team, as required. Sessions can run from a few hours to multi-day.


Leadership development - Scenarios to help teams operate more effectively,
using different command / management
structures. We can adapt these sessions
to be either mountain or indoor based.


Inspirational speakers - Our team has a portfolio of presentations on subjects
ranging from climbing expeditions to
ultra endurance events, mountain rescue,
and risk management in the mountains.

| | |
| --- | --- |
| Download our A4 printer ready Lake District mountain adventures leaflet. Click PDF logo, to the right >>> | |
Treated as genuine VIP's
We are highly aware this doesn't mean spending a fortune unnecessarily, but having a bespoke service that is tailored to your exact needs. For sure we can arrange the helicopter transfers, the personal security, and the private chefs, but we pride ourselves in offering more than that; discreet, bespoke, caring, high quality events and adventures. We truely believe this is what treating you as genuine VIP's is all about.
Any further questions?
A key part of choosing a company is being able to come and talk about your plans with an experienced course advisor face to face. In an increasingly virtual world, we know our clients value speaking to real people, getting open and honest advice. The vast majority of our clients are British, and our office and outdoor store is based in Windermere in the English Lake District.


Get in contact to arrange a meeting, and come in for a coffee to discuss your course in person with a trip advisor.