UK and EU compliance certificates. Click on
images for details...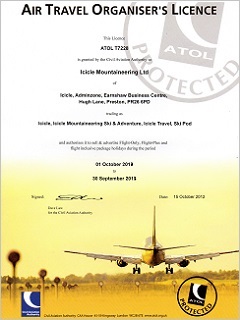 Your total financial, data, legal and online protection
We have not just a legal obligation to protect you money, data and online security when you book on an Icicle course, but also morally, as we want you to be totally confident that we are a bona fide company whose financial conduct has been assessed, and who follow a strict code of practice to protect your funds.

Icicle Mountaineering Ltd is a Private Limited Company registered in England under number: 4136635. The company registration details can be found at Companies House. Due to our TTA and ATOL bondings, Icicle follows a very strict code of financial practice, and all monies that you pay to Icicle are held in trust until after your course has ended. This protects you in the highly unlikely event of our insolvency, and furthermore all monies paid by you are insured.
Icicle fully complies with the EU Package Travel Directive and UK & EU laws
We are one of a small handfull of operators offering guided mountain holidays, who are actually fully bonded and in total compliance with the DBIS regulations for travel and tourism holidays. Others may offer similar products, but is your hard earned money actually safe with them? We openly invite you to verify our travel bonding, and ask that you investigate the same with any other operator that you are planning to book a trip with. Whether you are booking a mountain trip with an individual guide, or a tour operator, if booking a package you should ask the following;

1) Ask to be provided with evidence of how your money is secured to refund you in case of company failure.

2) Details of how they follow the Package Travel, Package Holidays and Package Tours Regulations 1992.

3) If flights are included in the package, you are legally entitled to request an ATOL certificate.


If any of the above are not provided, then you are dealing with an illegal operator under EU and UK law. Read down the page for details of what the regulations and laws state, and how we at Icicle are fully compliant with both.
| | | | | |
| --- | --- | --- | --- | --- |
| | | | | Please click on either of the screen prints to the left, to open the proof of our full bonding in new window. You can also contact the TTA or CCA by phone too. |
| TTA membership / licence number U3307 | | Civil Aviation Authority ATOL licence T7228 | | |
EC Package Travel Directive (PTD) & UK Package Travel Regulations (PTR)
The EC introduced the PTD in 1990, and revised it in 2009. The UK implimented the directive into law in 1992, and this applies to all UK registered companies providing a holiday package. The key aspects that the PTD and PTR provide the client with protection in three main areas; 1) the provision of correct information, 2) a legal regime for contracts and liabilty of the package, 3) financial protection and client repatriation in event of a company failure.


The European Commission revised the PTD in 2009 to ensure that there is the same level of protection for all those who buy package holidays right across Europe. The EC intends to iron out the current differences between all of the European member states, to offer harmonised and uniform protection. The PTD is expected to be revised further in 2014 to follow the EU prnciple of maximum harmonisation, with the important legal effect that the government of any EU member state will be unable to legislate beyond the level stated by the PTD.


UK registered companies who offer holiday packages, must follow the PTD and PTR which are implimented by the Department for Business, Innovation & Skills. Packages are defined as a holiday of at least 24 hours or involving any overnight accommodation. They must consist of a combination of at least two components: accommodation, transport, tourist services (e.g. actvities guiding), or a holiday being sold at an inclusive price.


To follow the law, any tour operator providing package holidays must protect the clients monies until they return home. For most flight-based package holidays, the security for the protection of customer money is provided by the Air Transport Organisers' Licensing scheme managed by the Civil Aviation Authority.
ATOL - 'If it hasn't got an ATOL, don't book it at all'
The air holidays on this website are ATOL Protected by the Civil Aviation Authority. Our ATOL number is T7228. This ensures that in event of our failure your money will be protected; if you are on a holiday at the time, arrangements will be made for you to complete your holiday and return home. The flights we provide are supplied by other ATOL holders and are protected by their bonds. For futher information, visit the website www.atol.org.uk/ATOLCertificate, or click on the logos to the right.
Many of the flights and flight-inclusive holidays on this website are financially protected by the ATOL scheme. But
ATOL protection does not apply to all holiday and travel services listed on this website. Please ask us to confirm what protection may apply to your booking. If you do not receive an ATOL Certificate then the booking will not be ATOL protected. If you do receive an ATOL Certificate but all the parts of your trip are not listed on it, those parts will not be ATOL protected. Please see our booking conditions for information, or for more information about
financial protection and the ATOL Certificate go to: www.atol.org.uk/ATOLCertificate
Travel Trust Association
Your booking is further protected through our bonding with the Travel Trust Association (membership U3307). This bonding fully complies with the 1992 Package Travel Regulations, and guidelines proposed by the Department of Trade and Industry to protect clients on package holidays. If you would like to see the details of our Travel Trust Association membership and bonding, you can find these on their website at www.traveltrust.co.uk, or click on the logo to the right.
Online booking security
| | | | | |
| --- | --- | --- | --- | --- |
| Our online system is protected by SSL encryption, so you can input card details and pay safely over the internet. We are also registered with the ICO for Data Protection. Our online payments system is with RBS, who have verified the security of our system with their independant tests. When you book online, you will see a padlock displayed in the bottom or top navigation bars of Internet Explorer, as shown in the image on the right. | | | | |