Gran Paradiso trek & summit 2017

Trek and climb the highest peak 4061m completely in Italy
Course overview
| | |
| --- | --- |
| | This is a classic route and is a great mix of challenging trekking and easy Alpine climbing to reach the highest point completely in Italy. The holiday is over seven days, with five days trekking and climbing. |
| | The vast majority of the trek is in the Gran Paradiso National Park, and so the area is unspoilt by cable cars or development. Most nights on the trek you stay in Italian mountain refuges, and can indulge in great mountain food. You stay in huts on a half board basis (included) for three nights during the week. |
| | The trekking in the region is remote and unforgiving, so you need to have a good level of trekking fitness. For the ascent of Gran Paradiso no previous climbing experience is required, as you can be taught any skills on the mountain. We provide the safety equipment, specifically crampons, helmet, axe and harness for free. |
| | You can look on this week as tough trekking or easy climbing, and it will appeal to those who enjoy remote areas, but love staying in mountain huts, and there is a real sense of challenge with the prospect of what is probably your first Alpine 4000m peak at the end of the week. For those who do not want a 'climbing' course, yet want to experience remote and easy Alpine summits, this is the holiday for you. If you are looking at more of a 'climbing' course, consider the Alpine Intro 4000m Course, and for details click here. |
| | Dates: these are listed in the column on the right, and they show the live availability from our secure online booking system. When you book online, you receive immediate confirmation, your Alpine Information Booklet, course specific kit list and invoice. |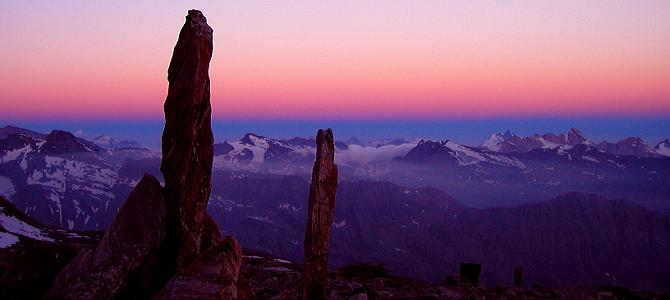 Daily Course Itinerary
| | |
| --- | --- |
| Sun | Travel to Chamonix to arrive for the 17:00 check-in followed by and course safety and itinerary briefings. There is time for kit checks or rental of equipment. Briefings are over by 19:00 and the Chamonix hosts accompany the group to pre-dinner drinks to answer any queries. Night in Chamonix. |
| Mon | Today you travel through the Mont Blanc road tunnel into Italy, and after passing Courmayeur, to turn up the Valgrisanche. At its head you trek up to the Mario Bezzi refuge, then in the afternoon a popular option is to visit the Lago di Vuert. Walking time: c. 5 hours. Night in mountain hut. |
| Tue | The objective for the day is to reach the Benevolo refuge, and this involves crossing either Col Bassac Dere 3082m or Col Bassac 3155m. If you have energy you can take in the summit of Becca della Traversiere 3334m or Punta Basei 3388m. Walking time: 6 - 7 hours. Night in mountain hut. |
| Wed | Today there is a choice of routes, such as the remote Col Rosset 3023m, or the ascent of the Punta di Leynir 3240m, before crossing back to the Valgrisanche via a quieter route to the north. Here you travel back to Chamonix for an evening instruction session. Walking time: 6 - 7 hours. Night in Chamonix. |
| Thu | Today is a deliberately easier day to prepare you for the exertions of the next day. After breakfast and kit checks, you drive to the Valsavaranches, to reach the hamlet of Pont around lunchtime. Here you ascend to the Victor Emmanuel hut. Walking time: c. 3 hours. Night in mountain hut. |
| Fri | A very early start to cross the boulder field behind the hut, to reach the glacier, then it's crampons and harnesses on for the ascent of the highest point completely in Italy. On the glacier you are roped up for safety, and it is a long but gradual ascent to Col Montcorve, then steeper to reach the summit ridge. Here it is a short and easy but exposed scramble to reach the summit at 4061m. After the summit celebrations you descend to Pont and return to Chamonix. Walking time: 9 - 10 hours. Night in Chamonix. |
| Sat | The morning is free for you to spend as you wish. Most people opt to explore the Chamonix market for local produce and presents. The accommodation check out is by 10:00. |
| N.B. | ITINERARY NOTES: Where possible we follow itineraries. Mountain adventures are weather and conditions dependant, so occasionaly we are forced to alter the plans. If this is the case, suitable alternatives are offered. Please use this outline itinerary as a guide to the types of route / activity that you will attempt. |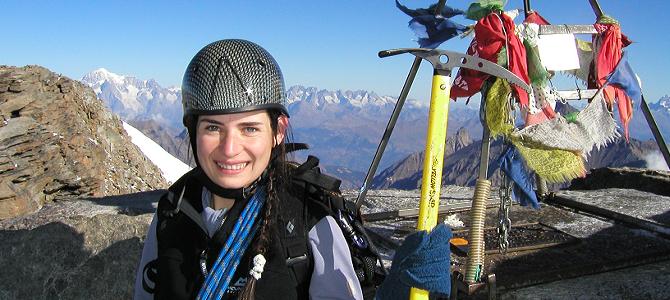 Course Prices
Standard course

5 full days of guiding, 1:8 & 1:4 max ratio
7 days holiday in total, Sunday-Saturday
£849

Live availability

Click on the planner logo to the right to
see the real time live course availability

Secure online booking system
Standard Course Inclusions: 1) UIMLA Guide for three days and IFMGA Guide for two days, 2) Chamonix course hosts for logistics & briefings, 3) B&B accommodation in Chamonix (inc. beddings & towels), 4) Up to three nights half board in mountain huts (inc. costs for guides), 5) Pre course information booklet, 6) Equipment discount voucher for UK shops, 7) Free 36 page technical Course Instruction Booklet, 8) Road transport in Chamonix valley, including travel to / from Gran Paradiso region, 9) Evening technical instruction when in Chamonix.
Exclusions: 1) Travel to and from Chamonix, 2) Equipment hire, 3) Personal laundry, telephone calls, lunches, evening meals in valley, & any purchases in mountain huts / hotels / restaurants, 4) Cable cars and mountain uplift (not normally required), 5) Activities insurance, & excess baggage charges.
Notes: Group sizes minimum 2 to maximum 8 clients (trekking) and 4 clients (climbing), with 1 leader. If you require the loan of any specified free safety kit (crampons, helmet, axe and harness), this must be reserved at least 2 weeks before the course through our Windermere office. Extra rental items e.g. B3 boots must be paid for.
Upgrade options
Acclimatisation Weekend
£99 (throughout the season)
To get the most out your course, acclimatisation is essential so that you minimise the chances of AMS later on during your course, details.
Half Board Upgrade
£99 (throughout the season)
For every night that you are in town, you eat in a different restaurant in the centre of Chamonix. Always three courses, to power you for the next day.
Mont Blanc Extension
from £499 (two days guiding)
Two days of extra guiding to attempt Mont Blanc, with the same guide who you have climbed with on this course. Ascent via the Gouter route, details.
Current course availability

Course Dates

Gran Paradiso Trek

[ 0 ]

27 Aug - 2 Sep 2017
Client feedback


Thank you so much for this holiday, and please pass on my thanks to the guides who made it happen. They were really professional and knowledgable

Hugh C , Gran Paradiso Trek


My partner and I couldn't agree before if we should book on a trekking or a climbing trip, so this was perfect for us with a really nice balance of the two

Delia T , Gran Paradiso Trek


As you know, I was elated to reach the top of Gran Paradiso, and it was the highlight (not to mention high point) of my whole year. Thank you

Tamsin C , Gran Paradiso Trek

Testimonials

Press & media

Films & videos

Photo gallery
Location data for this trip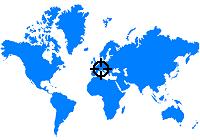 The trips all start in Chamonix valley in the French Alps, at the foot of Mont Blanc. It is easily accessed via a 90 minute transfer from Geneva airport.
Time Difference
GMT +1hr

Local Currency
€ Euros

Travel from UK
1hr flight
Trip film & photos
Course notes
| | |
| --- | --- |
| | Great guiding ratios where we guarantee a maximum group size of six people on each day of the holiday. |
| | The highest quality and qualifications possible for leaders. See the section below for full details of this. |
| | Three nights half board in mountain huts in the remote and unspoilt Gran Paradiso National Park. |
| | Itinerary flexibility to enable you to take in several peaks during the week. |
Suggested reading and kit
| | |
| --- | --- |
| | View full course equipment list, with examples of kit, click here |
Any further questions?
A key part of choosing a company is being able to come and talk about your plans with an experienced course advisor face to face. In an increasingly virtual world, we know our clients value speaking to real people, getting open and honest advice. The vast majority of our clients are British, and our office and outdoor store is based in Windermere in the English Lake District.


Get in contact to arrange a meeting, and come in for a coffee to discuss your course in person with a trip advisor. Many people opt for this service, and it is an integral part of what we offer, as we are keen to ensure that you are prepared as possible, and that you select a course that is suitable for you. It makes it easier and more enjoyable for you and us, if you are on the right trip.