Mont Blanc 'Summits' week 2024

Climb summits of Gran Paradiso 4061m

& Mont Blanc 4810m

Course overview

| | |
| --- | --- |
| | Summit: Mont Blanc 4810m is the highest summit in Western Europe. To get to the 'roof of Europe', we normally ascend via the classic Gouter route, or by the Gonella route from the Italian Val Veny (early season). The week starts with a 2 day acclimatisation and training ascent of Gran Paradiso 4061m. |
| | USP: Our primary focus is on getting you to the summit, no faffing, no discussion, no fuss. If you train hard, are focused, and the weather plays ball, we'll get you up there. If you want us to wave a magic wand, and not put in the training before, this really isn't the mountain for you! We are doers, not dreamers. |
| | Skills: You need excellent fitness, stamina and determination. Following the glacial evolution during the heatwaves of 2022, sections (e.g. Bosses Arete) are more technical, so a minimum of 2 days crampon experience is now a pre-requisite, and ideally a 4000m Alpine peak / altitude experience. Great balance, combined with the ability to move quickly and efficiently over broken mountain terrain, is essential. You should be confident on steep ridges. You are taught any necessary ropework and skills during the week. |
| | Effort: Due to the altitude and the length of the climb, we never declare the ascent to be easy. It is an unforgettable experience to reach the summit, and you will test the skills you have learnt along the way. |
| | Acclimatisation: Our itinerary includes an ascent of Gran Paradiso 4061m, at the start of the week. This helps you to acclimatise and develop skills, and the night is spent half board in a mountain hut at altitude. You are then ideally prepared for your main ascent of Mont Blanc, climbed over two days, with your second mountain hut night spent on Mont Blanc. By acclimatising early you provide more summit flexibility. |
| | Briefings: A principal feature of this course are the route / weather briefings and kit checks for your main ascents. The principle sessions are the welcome briefing on Sunday, a Gran Paradiso briefing and kit checks on Monday before you set off, and a Mont Blanc briefing the evening before your ascent. |
| | Dates: these are listed in the column on the right, and they show the live availability from our secure online booking system. When you book online, you receive immediate confirmation, your Alpine Information Booklet, course specific kit list and invoice. To read more about seasons, please click here. |

Photo: Climbers ascending the Bosses Arete towards the summit at dawn, having ascended via the Gouter.
How can I improve my chances on Mont Blanc?

Fitness: An ascent of Mont Blanc should not be underestimated, and you should arrive for this course in good physical condition as the climb will probably be the greatest physical exertion of your life. Please don't ignore this issue. You should be at least half marathon fitness, in a respectable time. It's even better if you are marathon fit! We highly recommend that you read our training page (click here) for details.
Weather: We can't book the weather, but we do guarantee to do our best to maximise your summit chances by tailoring the course to you, the individual. There's no reliable way of predicting weather on a particular week, but we only offer ascents in the key season where the weather is typically stable anti-cyclonic pattern, not pushing far into the early or late season where weather can be more unsettled with fresh snowfalls.
Preparation: To help prepare for an attempt on Mont Blanc, we recommend you book on at least one or more of these training and skills courses, to build up your fitness and skills to an ascent, to give you the very best chance. Experience helps increase flexibility in terms of weather windows, routes, speed, and safety. Higher levels of experience will help raise summiting chances. Train hard, climb easy!
Mountain Training w/e
Winter Toubkal 4167m
Lakes Rock Climbing
Scottish Winter Skills
Lake District weekend mountain training trips to develop footwork and hill fitness. 1:6 ratio; link
Climb the highest peak in the Morrocan Atlas, and develop crampon skills on the climb; link
Weekend of roped scrambles & multi pitch rock climbing, on a 1:2 instructor ratio ; link
Fort William based winter skills course. 2 days guiding 1:4 to build your crampon skills; link
Course photo gallery
Course photo gallery
Course photo gallery
Course photo gallery

Photo: Chris & Joe on the summit of Mont Blanc 4810m, ascent via Traverse, descent via Gouter.
Why you should climb with Icicle

Experience: Icicle has been offering guided ascents on Mont Blanc for well over two decades, and so we have excellent local contacts and detailed knowledge of conditions to optimise your summitting chances, not to mention being highly aware of the objective risks, and how best to keep you safe too.
Contacts: It is through these local connections that we can sometimes be very flexible with our itinerary to enable you to attempt Mont Blanc on almost any day of your course, once you are acclimatised and ready, and if requested can book extra hut nights for training climbs even during the week.
Permits: For the past few years, a new 'permit' system was introduced on Mont Blanc, where proof of hut bookings was required and checked by Gendarmerie on the mountain. This changed nothing for our groups, as hut spaces are guaranteed. It does help enforce a 1:2 guiding ratio (1:1 on Traverse) for safety.
Flexibility: After the ascent of Gran Paradiso (1:3 on summit day), you spend the rest of the week at a 1:2 guiding ratio. This gives you a little more flexibility on the mountain for making your summit attempt, or to adapt to suit your training needs / weather / conditions, to help maximise your summit chances.
Honest: Many of those who are thinking of booking a Mont Blanc trip, find our 'The Hard Facts' booklet a useful and honest reality check. We encourage all climbers to give it a read before they book; click here. You won't find a more brutally honest, and realistic summary out there. If it puts you off an ascent, that's probably for the best for everyone. Mont Blanc isn't an ideal first 4000m peak, it's ascent has a potential of relatively high objective dangers, and it's physically harder than almost every climber thinks. Please read it!

Photo: Headtorches of teams illuminating the route from the Col du Dome to Vallot shelter and the summit ridge.
Our ethics for Mont Blanc ascents

Ethics: We only offer honest and ethical ascents of Mont Blanc. Read our blog post about it (click here). We insist on a minimum age of 18 if unaccompanied, or 16 if they are climbing with their parent throughout the week. The ages are as per the start date of the course, to allow flexibility for summit days.
Seasons: We offer ascents in core season, and also in the low season...
Core season - course dates from 16 June - 7 September 2024
In this period, ascents are operated when all cable cars / trains are due to be operating, to limit approach walks. The dates for the Tramway Mont Blanc are mid June - mid September (link). This limits the core season to a 12 week period, but it maximises your summit chances, and is easier physically.
Low season - course 8 - 14 September 2024 (one week after the core season)
During low season, it is quieter in the mountains due to less infrastructure being open, but there typically is cooler conditions with more snow on the route. Courses are operated remotely, with no resort team other than the guides. Icicle hire kit isn't available, but you can rent locally.
Huts: On the normal route there are two huts you could stay in, the Tete Rousse 3167m (hut / base camp) or Gouter 3835m. To reach the Tete Rousse takes approximately 2 hours from the Nid d'Aigle, and the Gouter is a further 2 hour climb above. We also use the Gouter 3835m, Cosmiques 3613m, Tete Rousse 3187m (hut / base camp) or Gonella 3071m, dependent on conditions, weather and skills.
Principles: By sticking with our principles, we are making the summit a more realistic goal for you, and we are focusing on safety. We believe that for those of you who really do their research, you will be more attracted to a company who wants you to succeed more than the others. It isn't therefore a case of how often we operate this trip, but when and how we operate it.

Photo: Jo & Jonathan on the summit of Mont Blanc 4810m, having climbed via the Gouter Route.

Brief Course Itinerary


Please note that whilst the itinerary below is an ideal, the weather and conditions, as well as your skills, fitness, experience and acclimatisation all play a part too. In our decade of experience, we have found that hardly two weeks ever run the same, and even on a particular week sometimes different summit groups go on different days from different huts. Whilst the itinerary notes outline this, it is imperitive that you understand how flexible this course must be. You are dealing with the high mountains and extreme altitude, not a prescribed coach tour!


Sunday
Travel to Chamonix to arrive for the 17:00 check-in followed by and course safety and itinerary briefings. There is time for kit checks or rental of equipment. Briefings are over by 19:00 and then you are free to go out for dinner / drinks. Many clients opt to travel out a day or two early to do an acclimatisation weekend course to provide an extra night of accommodation, and to ascend a 3000m peak. Night in Chamonix.

Gallery: Chamonix town
Monday
After breakfast you meet our resort team, and guide, for a weather briefing and final kit checks for Gran Paradiso. You are driven by minibus (core season) through the Mont Blanc tunnel to Val Savaranches in Italy, then ascend to the Rifugio Vittorio Emanuele II or Chabod mountain hut, where you spend the night on a half board basis. Guiding ratio 1:3 (max) in hut, or 1:6 (max) for approach. Night in mountain hut in Italy.

Gallery: Paradiso National Park
Tuesday
Alpine start (c.4 am) to climb Gran Paradiso 4061, the highest peak completely in Italy. There are 4 possible normal routes to the summit, to cater for conditions / experience, all of which converge on the Col Montcorve. The route steepens to the final summit ridge, which although short is quite exposed, but well protected. The summit views are stupendous in all directions! Descend to Pont for return transfer to Chamonix. Night in Chamonix.

Gallery: Gran Paradiso 4061m
Wednesday
This day is flexible to allow you to normally climb another acclimatisation route to a summit, or to start your ascent of Mont Blanc if weather or hut spaces dictate. Typical routes for the day include Cosmiques Arete, Aiguilles Marbrees, Pointe Lachenal or Aiguille du Toule. Return to Chamonix to prepare for Mont Blanc. Guiding ratio 1:2 (max). Evening briefing session / meeting with course hosts: click for info. Night in Chamonix.

Gallery: Petite Aiguille Verte
Thursday
Equipment and bag checks before you set off to climb up to one of the high huts, either the Gouter / Tête Rousse / Gonella mountain hut for the night. Guiding ratio 1:2 (max). The choice of route that you take on Mont Blanc, and which hut(s) you stay in is a function of the weather, conditions, and your skills and fitness. Often different teams suit different plans to maximise their summit chances. Night in hut on Mont Blanc.

Gallery: Mont Blanc Gouter
Friday
Summit Mont Blanc 4810m from an Alpine start from the high hut, and descend to Chamonix. It is usual to reach the summit just after sunrise, to take advantage of the best snow conditions, lowest windss, and to minimise the risks of stonefall or afternoon storms on the descent. You typically reach the valley in the afternoon. Guiding ratio 1:2 (max). Most teams opt to meet up to go out for drinks and a celebratory meal. Final night in Chamonix.

Gallery: Mont Blanc Gonella
Saturday
Breakfast then the accommodation check out is by 10:00. Most arrange their transfers for around this time for a flight from Geneva about midday. Some people opt to book a tandem paraglider flight in the morning to celebrate the weeks efforts, and prices for this are from 100€ for a c.30 minute flight. These flights can be booked in resort up to the day before you wish to fly. Depart for home.

Gallery: Icicle Windermere office

ITINERARY NOTES: Where possible we follow itineraries. Mountain adventures are weather and conditions dependant, so occasionaly we are forced to alter the plans. If this is the case, suitable alternatives are offered. Please use this itinerary as a guide to the types of route / activity you attempt.
Photo: Climbers arriving at the Gouter mountain hut, which is on the most popular route choice for our teams.
Meet our team to answer your queries

Before your ascent of Mont Blanc, you'll doubtless have loads of queries that pop into your head. Many people find that to speak to someone face to face is far easier and more informative that hundreds of e-mails, so we offer 3 options;

Book in a meeting with a course advisor in our Windermere office,
Attend an open evening on an UK Alpine Training weekend course,
Join one of our pre-trip Zoom / Facebook meetings and presentations.

Human - it's what sets us apart from web-based companies. Meet the real people in a real UK office, who you speak to on the phone, who answer your queries, and who are there to help manage logistics both before and during your trip. Our infrastructure is tangibly there to support you from start to finish.

Photo: Interior of the new Gouter mountain hut, showing the sleeping pods, and beds with pillows and duvets.
Course Prices



Standard course

5 days guiding, 7 days holiday in total
IFMGA mountain guides for 5 days

£1899

Live availability

Click on the planner logo to the right to
see the real time live course availability

Secure online booking system

Standard Course Inclusions: 1) IFMGA Mountain Guide for five days, 2) Chamonix course hosts for logistics & briefings, 3) Evening technical instruction / briefing sessions, 4) Twin / double room self-catered accommodation in Chamonix (inc. linen, bedding & towels) for the whole week, so you don't move out when in huts, 5) Two nights half board in mountain huts / base camp for you and guide (1 on Gran Paradiso & 1 on Mont Blanc), 6) Pre course information booklet, 7) Equipment discount voucher for our UK shop, 8) Free 36 page technical Course Instruction Booklet, 9) Road transport in Chamonix valley and transfer to and from Gran Paradiso, 10) Icicle discounts privilege QR code list for reductions in local shops and restaurants in Chamonix.
Exclusions: 1) Travel to and from Chamonix, 2) Equipment hire, 3) Cable cars & uplift for last 3 days (c.23.5€ return for Mont Blanc tramway), 4) Optional second night (not normally required) in Mont Blanc hut on a half board basis for you and guide, 5) Personal laundry, telephone calls, lunches, evening meals in valley, & any purchases in mountain huts / hotels / restaurants, 6) Sunday pre-dinner drinks & Friday celebratory meal & drinks, 7) Activities insurance, & excess baggage charges.

Course upgrade options
Many clients on this trip consider upgrading with one or more of the following course additions...

Private
room

Big 5 Alpine
extensions

Technical
kit rental

Acclimatise
weekend

Upgrade to single from
£300-£500 in addition to
standard course price,
depending on week.
Extend by 2 days after
to ascend one of the
Big 5 Alpine peaks as
an extra summit.
Rent all technical kit
for a week. Full Alpine
Bundle costs you just
£100 for the week.
Saturday night spent in
Chamonix, with choice
of self-guided or guided
on Sunday. From £70.
Click for details
Click for details
Click for details
Click for details

Standard course accommodation - normally clients are based in self-catered flats (details), so take a look, and decide if it's for you. For more luxury, contact us for quotes in higher standard apartments, or hotels of any standard required. If you have / source your own course accommodation, or we cannot provide an upgrade, the standard course price has a £100pp reduction applied on your invoice.

What kit do you pack for climbing Mont Blanc?



Current course availability



[5+]

16 - 22 Jun 2024

[5+]

23 - 29 Jun 2024

[5+]

30 Jun - 6 Jul 2024

[5+]

7 - 13 Jul 2024

[5+]

14 - 20 Jul 2024

[ 4 ]

21 - 27 Jul 2024

[5+]

28 Jul - 3 Aug 2024

[5+]

4 - 10 Aug 2024

[5+]

11 - 17 Aug 2024

[5+]

18 - 24 Aug 2024

[ 4 ]

25 - 31 Aug 2024

[5+]

1 - 7 Sep 2024

[5+]

8 - 14 Sep 2024


Scheduled courses
Price: £1899Book online

Bespoke course? If your ideal date is showing as full on the list above, get in contact, as we also offer private 1:2 and 1:1 trips on any date during the season.



£50 early bird voucher

Book your 2024 trip before 01 Dec 2023, and receive a £50 voucher for equipment purchases from the Icicle Windermere shop. Voucher expires 01 Jun 2024.


Client feedback




An action filled week, and a perfect ending reaching the summit of Mont Blanc on a clear day. From the top we could see hundreds of miles

Alan N , Mont Blanc Summit



Climbing Mont Blanc was harder than I thought, but so rewarding too

Sally P , Mont Blanc Summit



100% summit, 100% happy, 100% thanks! A once in a lifetime holiday. I can't explain how much your support and knowledge meant to me. It gave me a total sense of confidence and trust, which was essential during the final steps

Steve R , Mont Blanc Summit


Testimonials

Press & media

Films & videos

Photo gallery

Mont Blanc links
Location data for this trip
The trips are based in the Chamonix valley in the French Alps, at the foot of Mont Blanc. It is easily accessed via a 90 minute transfer from Geneva airport.

Time Difference
GMT +1hr

Local Currency
€ Euros

Travel from UK
1hr flight

Films from the summit
Buy key items for this trip

FREE post for
UK orders over £30

FREE Icicle
neck gaiter for
orders over £50



Shopping cart

Click above to view online shopping
basket & pay.

Mont Blanc guidebook
£21.95

BD Cosmo headtorch
£29.99

Camp Armour helmet
£49.00

Extremities Guide glove
£29.99

Chamonix 3630OT map
£11.95

Grivel G12 crampons
£150.00

Grivel Air Tech Evo axe
£130.00

BD Epic 35l rucksack
£129.00

| | |
| --- | --- |
| | View full course equipment list, with examples of kit, click here |

Free resources




FREE Podcast
Training for Mont Blanc
A no holes barred podcast, to fully explain what an ascent entails physically and technically, including several examples of hill training.

Equipment - summit day kit list...

We send a course specific equipment list to all those booking on our courses, but due to the popularity of this course, we outline a typical packing list for the Mont Blanc summit day in the list below.

Basic clothing
- Light coloured long sleeve wicking layer
- Schoeller / soft shell climbing trousers
- Mid layer fleece jacket / gillet
- Fleece hat and gloves, and sunhat / cap
- B3 leather / hybrid boots, and gaiters
Equipment
- Harness, helmet, ice axe (without leash)
- 12 point crampons andanti-balling plates
- 1 x 120cm Sling, 1 x karabiner, 1 x prussic
- Telescopic trekking poles with snow baskets
- Head torch (LED style is lightest type)
Altitude gear
- Synthetic or down insulation jacket
- Goggles in case of high wind
- Neoprane face mask in case of wind
- Thick waterproof over gloves
- Windproof over trousers (eg PacLite)
General kit
- Close fitting sun glasses (Factor 4 for snow)
- Pocket snacks for summit day (eg Haribos)
- Water bottle (bladder type may freeze)
- Rucksack (up to 35 litres max is ideal)
- Basic blister kit, Aspirin, suncream

Helicopter to the hut?
Helicopter drops are not allowed in France, but if you wish to avoid ascending the Gouter couloir, or to save energy, you can now arrange to fly in and out of the Gonella hut on the Italian route. This costs 300€ per flight (not included in the course price), and it can carry up to 5 people and a pilot.



Is it cheating? No more than taking the cable car and tramway on the Gouter route, or the cable car to Aiguille du Midi. Start at Nice beach at a low tide if your ethics are really that stringent.
Why Icicle for Mont Blanc?

Well over 20 years experience of running these ascents safely, and with high summiting records.
Great guide ratio's on Mont Blanc (1:2), and Gran Paradiso (1:3) on summit days, to keep you safe.
2 nights in huts are included, 1 on Gran Paradiso, and 1 on Mont Blanc, to acclimatise you well.
Resort team to help you with kit checks, briefings, forecasts, and all the logistics for the week.
We usually start from the high huts on Mont Blanc (Gouter or Gonella), to give the shortest summit climb.
Itinerary flexibility to allow you to take full advantage of the weather windows for your summit climb.
Our prices are fixed in £ Sterling, to protect you from euro fluctuations, so you can budget accurately.
There is a choice of routes to opt for, depending on the weather, conditions, and your experience.
In event Mont Blanc is not possible, the costs for an alternative peak (hut and transport) are all included.
Well over 20 years experience of running these ascents safely, and with high summiting records.
No need to check out of our valley accommodation when you are staying in mountain huts.
UK office for you to contact or to meet us, to help you prepare, and maximise your summit chances.
See our Mont Blanc blog, by clicking on the Word-press logo to the right.

Why others cost more
There's many offerings out there that cost upwards of £1000 more than us. Why? In most cases this is for luxury half board chalet accommodation in Chamonix. We save you c.£100 per night on these prices. A bed is a bed, so we include accommodation, that is functional with self-catering facilities. That's quite some dinner and drinks you could have for the c.£100 per night savings, or you could keep your hard earned money in your bank account instead!
Prefer a virtual ascent?
Google Streetview and Mammut 360 provide images of virtual ascents, so you can 'climb', from your sofa ;-) Click on the images below to link...
Any further questions?
A key part of choosing a company is being able to come and talk about your plans with an experienced course advisor face to face. In an increasingly virtual world, we know our clients value speaking to real people, getting open and honest advice. The vast majority of our clients are British, and our office and outdoor store is based in Windermere in the English Lake District. Arrange a meeting, and come in for a coffee to discuss your course in person with a trip advisor. Many people opt for this service, and it is an integral part of what we offer, to ensure that you are prepared as possible.



As well as talking though your course, most clients have queries about the kit they will require, to avoid expensive mistakes, and we can show you some examples of that to consider. Others have training queries, about how to best prepare for your trip, and we will be able to steer you in the right direction. No question is too silly, and we'll have heard them all before! An integral part of booking is the ability to get good knowledgable advice, and a highly personal service. Unlike companies that only exist virtually in cyberspace, we are staffed by real people, in a real office, who offer real honest advice. Because we are tangible, we are accountable, and we take great pride in that and the service that we offer you. Get in touch to come in for a chat soon.


Feedback & photos from Mont Blanc summit... To read more specific feedback about this trip click here.

| | | | | |
| --- | --- | --- | --- | --- |
| "Excellent photos! And what a fantastic trip! Memories that will last forever! A huge thank you to the best team and to Icicle and all our guides! Spot on!" Jo W, Mont Blanc | | "Low on frills. High on skills. A no-nonsense week exactly as you advertised. Great team both on and off the mountain, who all made it happen for us" Stephen R, Mont Blanc | | "So happy to have reached the summit. Gio was a great guide, who took care of us, and always made us feel safe. We couldn't have do it without him" Sophie McM, Mont Blanc |

"Just wanted to say a massive thanks (and to the other guys in the office and the guides) on behalf of me and A, for your support and advice during the week, and for rearranging the schedule and sorting the extra night in Gouter at such short notice to allow us to summit safely. I know that must have been a challenge and just wanted to say it was much appreciated. We had a fantastic time - a really tough challenge, but you guys made it so much better and took a lot of the worry and stress away. Hope to see you again on another trip somewhere" Vinny H, Mont Blanc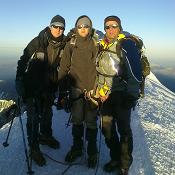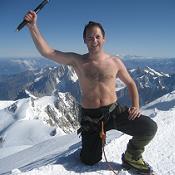 conditions|privacy|sitemap|

copyright © 2023 Icicle, Church Street, Windermere, Lake District, LA23 1AQ

Icicle logo is the registered trademark ® of Icicle Mountaineering

|

UK company 413 6635. VAT 770 137 933